Places in KwaZulu Natal:
South Africa
KwaZulu Natal : Drakensberg | Northern Drakensberg | Mount Edgecombe (Zululand | Falaza Game Park And Spa) | Hluhluwe | Durban | Eshowe | Richards Bay | Umhlanga

This well equipped conference venue in KwaZulu-Natal offers amazing packages and team building activities to suit all guests and ensure a successful conference in South Africa
This Kwa-Zulu Natal conference venue offers spacious accommodation and a choice of 2 conference / function venues, the largest of which seats 200 delegates
Drakensberg Sun is an ideal venue for conferences or business meetings. The impressive Summit Room, which caters for 200 people, can be divided into smaller, self-contained rooms
Renowned as one of Southern Africa's elite conference and holiday venues, Alpine Heath Resort lets you relax in the comfort of a mountain village amidst the Northern Drakensberg in KwaZulu-Natal
The Kingfisher Conference Centre is a conference organisers paradise. There are a total of 4 meeting rooms that all function as independent business centres. All 4 of the meetings rooms
Leopard Mountain Safari Lodge and Conference venue, just up the coast from Durban, and near Zululand Rhino Reserve and Hluhluwe hosts 18 delegates
This stylish conference venue in Durban boasts the latest in conference equipment and can seat up to 180 delegates
This Durban Beachfront conference venue provides state-of-the-art technology in all conference facilities, in a well designed ambience of stylish elegance and sophistication
This Durban conference centre is made up of several conference rooms with the largest room accommodating up to 250 delegates
This conference venue on the Durban beach front offers state of the art equipment in 4 sophisticated and spacious conference rooms for 300 delegates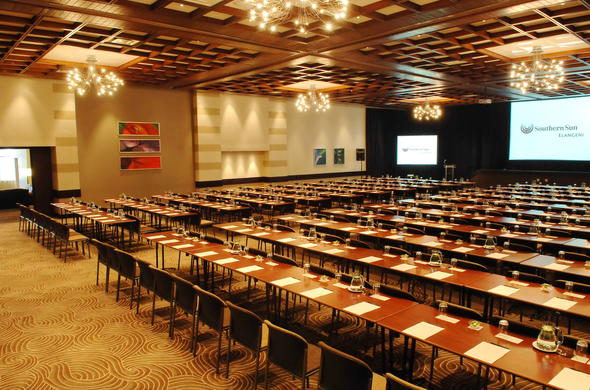 This conference venue on Durban's beach-front boasts a comprehensive conference centre with 9 stylish and well equipped meeting rooms seating 20 to 500 people
This five star conference venue in Durban can accommodate a maximum of 550 delegates and has 4 cocktail venues, 7 superb restaurants and 14 function rooms
The Conference facilities available at this Durban conference venue offer guests style and comfort, complete safety and security, all in unique and picturesque surroundings
This conference venue in Durban consists of a private room with a permanent antique boardroom tables and private ante room, and verandah for catering purposes
Conference and banqueting facilities at this KwaZulu Natal conference venue are available for up to 450 delegates and the gardens are a beautiful setting
A modern conference centre with multiple conference venues in Eshowe caters for 50 up to 120 delegates, for banquets, cocktails or just a different kind of educational conference
This conference venue in Kwa-Zulu Natal is built into the cliff and boasts wonderful conference facilities for up to 35 delegates
This 300 seater conference venue is the first choice for business travellers to Richard's Bay
This San Lameer conference center on Durbans south coast excels in the 3 essential ingredients of successful conferences: superb cuisine, impeccable service and an elegant atmosphere
For a superb and stylish conference venue Falaza Game Park in St Lucia, just up the coast from Durban offers an elegant setting for 18 to 30 people in a wilderness area
For your conference needs, Protea Umhlanga has a state-of-the-art conference centre with the latest equipment, catering for up to 200 delegates, is located on the 9th floor..
This conference venue in Durban is ideally situated for small executive meetings and corporate dining.
Upcoming Events
April2020
Su
M
T
W
Th
F
Sat
1
2
3
4
5
6
7
8
9
10
11
12
13
14
15
16
17
18
19
20
21
22
23
24
25
26
27
28
29
30
May2020
Su
M
T
W
Th
F
Sat
1
2
3
4
5
6
7
8
9
10
11
12
13
14
15
16
17
18
19
20
21
22
23
24
25
26
27
28
29
30
31