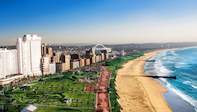 Event and conference venues in Durban along the beachfront "Golden Mile", are always in high demand. However, if an out-of-city Durban conference venue will suit you better, you will find some excellent KwaZulu-Natal coastal and mountain resorts.
Why Choose Event and Conference Venues in Durban
With good year-round weather, Durban provides great prospects for business tourism. It has more beach-front hotel accommodation per kilometre than any other African city, meaning that if you cannot get all your visitors into the same hotel, you can book them into another, a few minutes walk from your conference venue.
With up to 5000 ships visiting the port every year Durban harbour is not only the busiest harbour in Africa with the largest container capacity, it is South Africa's main port of entry and the centre of KwaZulu-Natal's business and social sphere.
Conference Centres in Durban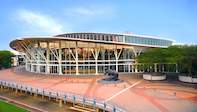 Durban conference and exhibition centres can host from 1000 to 5000 delegates. Durban accommodation options are available within walking distance, or a short drive of these Durban conference centres.
Invariably, conference venues in Durban always lay on shuttle transport for large convention delegations. So getting about the city at a Durban Conference is not a problem.
Durban Post-Conference Travel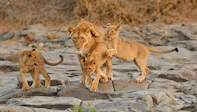 Take a break after your Durban conference. Go on safari. Play golf. Relax at a resort on the beach or in the mountains. Find out here about post-conference executive leisure packages.
Incentive Travel Rewards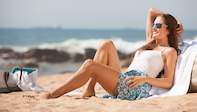 Almost everyone loves a beach holiday. This includes your hard-working executives and employees. Find more out about Incentive Travel Rewards
Corporate Clients that benefit from our Conference Services
Our corporate client list includes major Banking & Insurance Companies, Telecoms, Government departments, Embassies, Universities, FMCG Manufacturers, Airways, TV Broadcasters & Auto Manufacturers. See who we work with
Durban Conference and Event Planning with Siyabona Africa
Find party venues in Durban as well as Durban wedding venues. Planning ahead is always the key. See the advantages of planning your conference early
Budgeting requirements
Delegate accommodation
Delegate transportation
Add-ons and themed events
Accompanying partner activities
Pre and post event travel
Executive leisure options