Expo Centre Johannesburg, Nasrec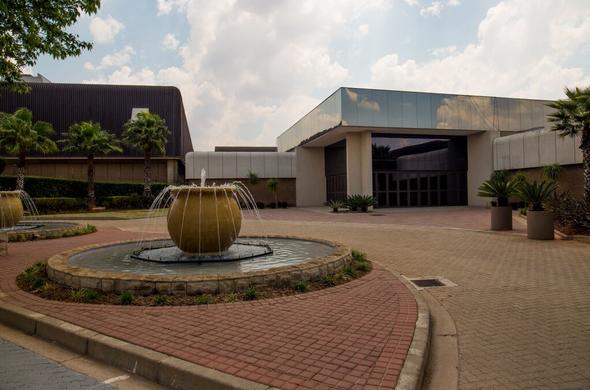 With space for 25 000 visitors and parking for 20 000 cars, the Johannesburg Expo Centre is ideal for trade shows, concerts and exhibitions.
Lodging: There are many luxury hotels and guest houses nearby
Location: Central to Johannesburg, Sandton and Pretoria
What To Do: Trade expo's, exhibitions, product launches, car shows
In the spotlight for business tourism, MTN Expo Centre's 2010 Africa Meetings conference drew approximately 3000 local and international delegates. This top notch trade show and exhibition centre, is also one of the largest conference, and product launch venues.
Just some of the reasons why the Expo Centre is so popular, is that the venue is flexible,
the service is five star and personalised
, anything can be arranged and brought in, and an experienced team is always at hand.
With the largest dedicated exhibition facilities in Africa, the Expo Centre can offer over
42 000 square meters of covered space
, and an extra 80 000 square meters of outdoor, multi-purpose space.
Black Eagle B

Cinema: 200 Delegates
Cocktail: 200 Delegates
Banquet: 120 Delegates
Schoolroom: 120 Delegates

Black Eagle C

Cinema: 300 Delegates
Cocktail: 300 Delegates
Banquet: 180 Delegates
Schoolroom: 180 Delegates

Function Room 1 and 2

Cinema: 120 Delegates
Cocktail: 120 Delegates
Banquet: 80 Delegates
Schoolroom: 80 Delegates

Function Room 1

Cinema: 75 Delegates
Cocktail: 75 Delegates
Banquet: 50 Delegates
Schoolroom: 50 Delegates

Function Room 2

Cinema: 45 Delegates
Cocktail: 45 Delegates
Banquet: 30 Delegates
Schoolroom: 30 Delegates

Boardroom (Admin)

Banquet: 25 Delegates

Dining Room (Admin)

Cocktail: 40 Delegates

Bar (Admin)

Cocktail: 40 Delegates

Upper Restaurant

Banquet: 250 Delegates

Lower Restaurant

Banquet: 250 Delegates

Auditorium Circular

Cicular: 660 Delegates

Main Arena

Area Capacity: 20 000 Delegates

Refreshment Breaks:

On arrival - tea and coffee
Mid-morning - tea/ coffee and danish pastries
Two course luncheon - network luncheon (standing as per menu)
Mid afternoon - tea/ coffee and biscuits

Additional Options:
Tea / coffee and rusks
Tea / coffee and juice
Tea / coffee and sandwiches
Tea / coffee and muffins
Tea coffee and savoury snacks
Assorted filled croissants

Two Course Lunch Menu:
Bakers display
Selection of Seeded Cocktail Rolls
Whole Wheat Loaves
Parsley Butter

Hot from the buffet
Rare Roast Fillet of Beef with Forest Mushrooms
Madras Chicken Curry with Coriander and Sambals
Fresh Seasonal Vegetables
Rice Pilaff

Salad selection
Garden Greens topped with Pitted Olives, Feta, Vine Cocktail Tomato and Cucumber
served with a Creamy Basil dressing

Desserts

Chocolate Éclairs filled with Crème Fresh
Tropical Fruit Tartlets with Coconut
Steamed Malva Pudding with Custard

Tea and coffee
Freshly Brewed Filter Coffee, Decaffeinated Coffee
Selection of Ceylon or Rooibos Tea
Sweeteners and Fresh Milk