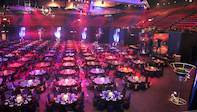 Sun City Superbowl can host large-scale events.
Sun City conference venues will suit any event organizers requirements. Whether you are hosting a major conference, a product launch, a private board meeting, an exciting exhibition or even an exclusive gala banquet, Sun City has the conference venue for you.
Product Launches and Entertainment
Conferences and Events at The Cascades
Sun City hosts some of the finest large conferences and event venues in South Africa. Extravagant and overwhelmingly fascinating, all Sun City conference venues utilise the latest presentation equipment supported by in-house design and technology services.
Corporate Galas and Banqueting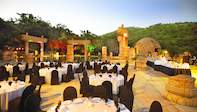 Conference and Events at Valley of the Waves
Sun City conference venues are an exceptional venue for banquets and concerts. With 39 venues, both large and small, resident stage designers, lighting and sound engineers and a full range of audio-visual presentation equipment available.
Corporate Golf Days and Events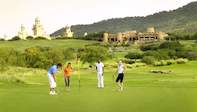 Events and Conferences at the Cabanas
With so many venues and themes, Sun City is a conference organiser's dream. With an on-site printing facility, document editing and collating service, ticketing, carding and access control systems.
Themed Events at the Palace
Lost City is THE best out-of-the-city big event hosting in South Africa. The needs of multiple-conference organization and large scale convention hosting are met by an experienced team and dedicated task group.
Incentive and Executive Leisure Travel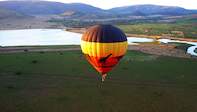 Whether you are sending the boss on holiday or rewarding your top performers, we can help. Find out you can design custom incentive travel packages.
Getting to Sun City Resort
Access is relatively easy. Road transfers operate three times a day between O.R Tambo International Airport and Sun City, and are easy to schedule.
Conference Planning Essentials with Siyabona Africa
Learn more in our Sun City Conference Guide and see the advantages of planning your conference early.
Budgeting requirements
Delegate accommodation
Delegate transportation
Add-ons and themed events
Accompanying partner activities
Pre and post event travel
Executive leisure options
Sun City Resort in North West Province, South Africa is just a 2-hour drive from Johannesburg. Our Sun City conference venue partner hotels offer a variety of accommodation, superb entertainment...
more
Whether you're looking to take your team away for a fun day out, or you're planning a large-scale corporate event, the City Convention Centre at Sun City Resort in South Africa has the perfect venue for you....
more