GrandWest Entertainment World, Goodwood, Cape Town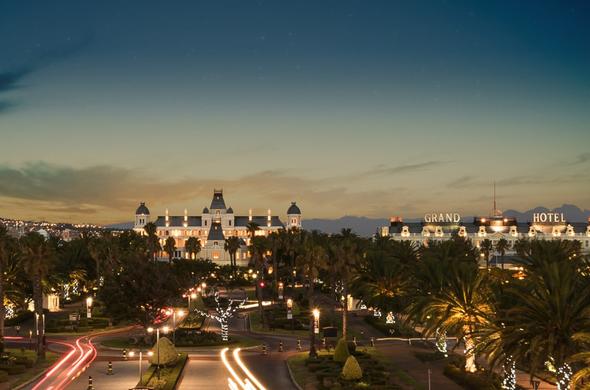 This sophisticated conference venue in Cape Town is geared toward high class entertainment and one of the leading conference venues in the city with a variety of venues perfect for any occasion.
Lodging: GrandWest boasts 2 hotels with over 200 rooms
Location: Situated close to the Cape Town International Airport
What to do: Product launches, conferences, seminars, gala banquets, award ceremonies
Sun International's GrandWest is
one of the leading conference venues in Cape Town
and offers a variety of functions, including product launches, exhibitions, business conferences and gala dinners.
Located just outside of in Cape Town, the conference venue is
easily accessible from the Cape Town International Airport.
Conference Venue Variety
GrandWest hosts five very different conference and event venues
Hanover Street
Roxy Revue Bar
The Good Hope Suites
The Ice Station
The Market Hall
The Market Hall Exhibition Centre
Ideal for gala functions and banquets, as well as trade exhibitions, product launches and fashion shows. This is the main, multi function hall and is situated in the Cape Village near the welcome Centre Entrance. Access to the hall is via the Hendrick Boom's Garden.
Exhibitions: up to 700 guests
Banquet: up to 500 guests
Round Table - 600 delegates
Schoolroom - 500 delegates
Cinema - 850 delegates
Cocktail - 700 delegates
Decor
Banqueting supplies standard white linen and napkins. Clients are welcome to bring their own additional decor or contract a decor company for the event.
Flowers
The venue has a preferred supplier. However, clients can supply their own centerpieces.
Technical Requirements
Standard stage lighting and sound are not included in the venue hire. Clients should please indicate their technical requirements in order to receive a comprehensive quote.
Security
Security is not included in the venue hire. The number of guards required depends on the number of people attending the event.
The Ice Station
This is the ideal venue for larger banquets. Insulated flooring is laid over the ice top. This venue can easily accommodate up to 1000 people in banquet style seating.
Good Hope Hospitality Suites
These suites can be converted to accommodate anything from 40 to 250 delegates in traditional cinema style or it accommodate up to 150 delegates for a seated dinner. It includes a foyer area for registration and refreshments.
Banquet (Round tables): 80
Cinema style: 162
Cocktail: 170
Schoolroom: 105
Hanover Street
This venue is ideal for corporate functions, award ceremonies and gala events. Very exotic, it combines great style with the spirit of celebration. The venue can accommodate a maximum of 450 guests.
Roxy Revue Bar
This is an excellent venue for traditional style theatre presentations and stage shows.
Accommodates 450 guests.
Additional Conference Amenities
On site catering
Audio visual equipment and technicians
Restaurants within close proximity
Wide variety of accommodation
Conference and Banqueting personnel
Conference Packages
Full Day Conference Package
Tea/coffee and pastries on arrival
Tea/coffee and biscuits mid morning
Finger fork lunch with juice
Tea/coffee and assorted chef specialty sweets mid afternoon
Mints and water on tables
Half Day Conference Package includes
Tea/coffee and pastries on arrival
Tea/coffee and biscuits mid morning
Finger fork lunch with juice Mints and water on tables