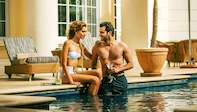 Leisure travel after a conference is one of the best ways to have time to reflect on and absorb ideas and concepts you have gained in a hectic three or four day run-around of business meetings, lectures and presentations.

Luxury in the Bush... 4 days of superb wildlife viewing and premier accommodation at the Park's best safari lodges.

Tee Off at Gary Players Club...Or any other green of your choice in our selection of South African golf estates.

Best of the Cape... The mountain, the sea, the Waterfront. The life. The Experience.

The Cape Winelands Revealed... You are at the mercy of world acclaimed chefs, on famous, premier wine estates

Might and Majesty...One of natures seven wonders. An unforgettable break whether you take it slow or get in action.

Mozambique Escapes...5 days of tropical beaches, lazy palms and warm breezes on the Indian Ocean, just for you.

Take a Spa Break... Re-vitalize body and spirit with the full treatment at any retreat around South Africa.
Corporate and Executive Travel Focus
Siyabona Africa's Business Travel division focuses on the corporate travel market, catering to business and executive relaxation and accommodation needs. In conjunction with selected hospitality operators and service providers across southern and east Africa - we feature destinations and activities that will suit your time-constrained executive schedules.
These leisure ideas and inspirations feature short safari excursions, beach breaks at easily accessible destinations, golf holidays, wine and gourmet places as well as some unusual interests.
How About Customized and Specialized Niche Travel Options
Apart from providing general and niche travel products for Pre and Post-Conference activities and destinations, we provide customized options to fit the needs of your schedule.
With our extensive travel portfolio covering nine African states and the Indian Ocean islands, if you can think of it, we more than likely have it.
Speak to a Siyabona consultant now.
For conference delegates, accompanying spouse or partner activities can be arranged. Depending on location and venue these can be spa treatments, shopping excursions...
more
The conference industry is also becoming a main reason to visit South Africa. Business tourists are 6-7% of South Africa's visitors. Business tourists are choosing South Africa as their destination of choice...
more