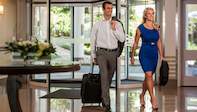 The South African business travel industry is booming. With so much focus on business and infrastructure development on the African continent, it makes sense for global companies to host their conventions and conferences in South Africa.
The conference industry is also becoming a main reason to visit South Africa. Business tourists are 6-7% of South Africa's visitors. Business tourists are choosing South Africa as their destination of choice because of the country's conference facilities, hotels and resorts, heritage sites, outdoor adventures, golf courses, safaris, cuisine, shopping and beaches.
The conference facilities in South Africa are one of a kind. From having a small conference in a quaint country estate to a 10 000 delegate conference at the state of the art Cape Town International Convention Centre, the options are endless. South Africa also offers safari conferences where you can see the Big Five during business breaks.
South Africa has an array of hotels and resorts that have conference facilities. You can stay at a luxury 5 star accommodation or choose a more rustic venue for team building. South Africa's top resorts and hotels have won countless awards for their ambiance and comfort.
South Africa is home to 8 UNESCO World Heritage Sites.
Robben Island - where Nelson Mandela was imprisoned for 18 years
iSimangaliso Wetland Park - one of the largest estuary systems
The Cradle of Humankind - has the richest evidence of human evolution
uKhahlamba Drakensberg Park - South Africa's highest mountain range
Mapungubwe Cultural Landscape - shows evidence of a highly advanced indigenous society
Cape Floral Region - one of the richest and most diverse floral areas in the world
Vredefort Dome - the world's biggest meteor crater
Richtersveld Cultural and Botanical Landscape - last area where the Nama people cling to a pastoral lifestyle
South Africa's temperate climate and picturesque surroundings make it an adventurer's dream. Whether it is mountain biking, fishing, swimming, or hiking, South Africa is an adrenaline junkie's paradise. South Africans live an outdoor lifestyle that tourists get very accustomed to.
Golf is one of the great South African pastimes and with over 500 golf courses, golfers will definitely enjoy it here. In South Africa you can play beside the ocean, mountains, or hit golf balls amongst hippos! Business tourists can easily have golf breaks and many of the courses have affordable rates.
South Africans love the wilderness and share their love for wildlife with visitors in the utmost of luxury. Many game lodges offer conference facilities on location, so a safari is only a tea break away. Take your delegates on a safari walk or in an open air vehicle to see the Big Five. Safaris are great team building experiences for business tourists.
South African cuisine is a mixture of different cultures that equals mouth watering meals. Indian food like curries are highly popular and braais (barbeques) are almost a weekly event. Being a country that has the Atlantic Ocean on one side and the Indian Ocean on the other, seafood is fresh and delightful. In the Western Cape, wine lovers can go wine tasting at the numerous award winning wine farms.
South Africa has malls and markets that are full of local and international items. All the big cities have large malls with hundreds of shops and you can easily find markets that are affordable and filled with local arts and crafts.
The beaches in South Africa are first class with many having the prestigious Blue Flag rating. Durban has miles of warm ocean water washing up on miles of beaches that are perfect for post conference breaks.
Cape Town might have slightly colder waters but the atmosphere and breathtaking views will warm you. Hermanus, only 2 hours from Cape Town is the whale watching capital of the world.
Find out more about leisure activities before and after your conference