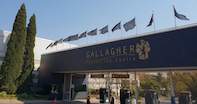 Gallagher Convention Centre is one of the largest and most sophisticated conference venues in South Africa and offers professional conference facilities for up to 7000 delegates.
Lodging: There are many excellent hotels within close proximity of Gallagher Convention Centre
Location: Midrand, near Johannesburg
What to do: conferences, dinners, luncheons, cocktails, exhibitions and private events
Gallagher Convention Centre is one of the largest and most sophisticated convention centres in Southern Africa, offering excellent conference and exhibition facilities of an international standard.
The Koi Deck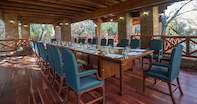 The Koi Deck is situated in the centre of the Estate and is surrounded by beautiful gardens and streaming waterfalls, this intimate setting is perfect for a wedding ceremony able to accommodate 180 guests cinema style, 50 guests for a buffet set up or 100 guests for cocktails.
The Lotus Suite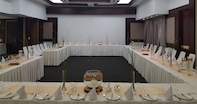 The Lotus Suite lies in a private secluded corner of the Gallagher Convention Centre gardens. It is perfect for smaller corporate or private functions for up to 100 guests. An enclosed foyer leads into 2 spacious rooms, one of which is sub-divisible. The elegantly appointed cocktail bar and terrace can be used for indoor and outdoor fun.
The Meeting Rooms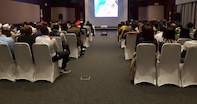 Marrying convenience, practicality and luxury are 3 well-appointed conference rooms -Gallagher 1,2 and Gallagher 3 which is subdivisible. All 3 the venues are served by their own foyers which makes them perfect for training sessions, luncheons, banquets and conferences. As with all the venues on the Estate, the
Gallagher venues are fully equipped to satisfy any presentation needs, with a full array of the latest audio-visual equipment available upon request.
The Estate Ballroom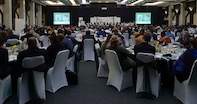 The Ballroom can accommodate up to 500 guests for a dinner or 1200 delegates for a seated conference. Meals are provided by a team of world class chefs who create exceptional culinary delights, making your visit to Gallagher Convention Centre even more memorable.
The Boardrooms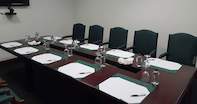 Situated in the Gallagher Centre, in close proximity to the Business Centre and Harold's Bar are 4 self-contained boardrooms that can accommodate from 2 - 60 guests for a private high power meeting or a formal intimate luncheon.
The Gallagher Grill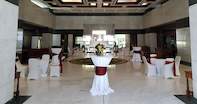 The Gallagher Grill, with its grandiose marble foyer and outdoor deck in the beautiful Gallagher Convention Centre gardens, can seat more than 220 guests for a glamorous banquet or conference, 400 guests in Cinema style or 200 guests schoolroom style.
Gallagher Marquee
The Marquee looking out onto Gallagher's lush gardens situated next to the Koi pond in the centre of the estate is a perfect outdoor venue for a banquet or cocktail set up, the Marquee is able to accommodate 80 guests in banquet style which is perfect for a smaller wedding celebration and a 100 guests for a cocktail.
The Auditorium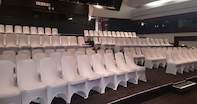 The Auditorium can accommodate 160 guests for a seated dinner, or with its raked seating can accommodate 450 guests for a conference or product launch. Served by a spacious adjoining foyer, the Auditorium, which boasts 27 fly bars as well as a stage lift and revolve, together with a star suite and a chorus dressing room, the Auditorium is an ideal venue for both commercial and industrial theatre.
The Exhibition Halls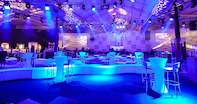 The 5 exhibition Halls of Gallagher Convention Centre offer the client more than 27000m² of exhibition space, which is complemented by 2 fully equipped restaurants. The major Halls are fitted with evaporative air cooling and heating systems, ducting with water, electrical and communication connections, and plenty of organisers' offices. Efficient access at street level, parking for more than 10 000 vehicles and the easy flow of visitors, mean that the exhibition venues at Gallagher Convention Centre satisfy the needs of both exhibitors and their guests.
The Wine Garden Restaurant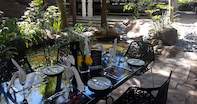 The Wine Garden Restaurant situated in the picturesque Gallagher Convention Centre Gardens, offers a unique alfresco dining experience with superb quality cuisine. Whether you are looking for a quick snack or a fine dining experience, the Wine Garden Restaurant will cater for your needs.
Conference Services
Logistics
Freight handling
Porterage
Registration
Printing
Security
Décor
Technical equipment
EnquireHost your next conference at Gallagher Estate Convention Centre.