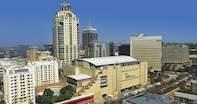 If you're planning a business event in Johannesburg, look no further than the Sandton Convention Centre. From intimate meetings and workshops to large conferences and exhibitions, you'll find everything you need here.
Lodging: 9 hotels around Sandton Convention Centre
Location: In Sandton City, Johannesburg
What To Do: Trade shows, international conventions, conferences, exhibitions, Hybrid conference
Whether you're planning an international conference with thousands of delegates, or seeking a private boardroom for smaller, more intimate high-level meetings, or a Hybrid conference, event and meeting Sandton Convention Centre has the space you need. You'll find venues and facilities from which to mount the most ambitious audio-visual productions or deliver highly focused presentations to small, select audiences.
Technology and the range of facilities make the Sandton Convention Centre by far the most versatile, accommodating and sophisticated venue that South Africa has to offer, matched by a few others in the world today.
The Sandton Convention Centre is surrounded by nearly 11 000 parking bays, situated in 3 big parking arcades. The security system is built such that the building can be evacuated in a matter of minutes, should the need arise.
The Sandton Convention Centre can cater for all culinary tastes and needs. A complete range of dishes and menus are available. Outstanding service around the clock is our top priority here. From pre-event planning, through the preparation and presentation of each and every meal served, and during the progress of an event to its successful conclusion.
The Sandton Convention Centre is linked by skywalk to Sandton City and adjacent to Nelson Mandela Square, two of the most prestigious and sophisticated shopping complexes in Africa. The spacious malls are ideal for walking, browsing, sitting over coffee, eating or shopping.
A transport company can be appointed to provide a dedicated bus shuttle service for delegates. This service could include shuttles between hotels, to cater for delegates that are not staying within walking distance of the Sandton Convention Centre.
Services and Amenities
Audio-visual
Catering
Cleaning
Decor
IT Service
Security
Onsite Drayage and Fright
The Ballroom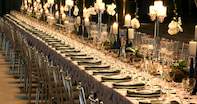 A sophisticated ambiance in this magnificent triple-volume environment is created by its vast, uninterrupted space and its immense, hand-woven wall coverings. Mobile interior partitioning allows for a variety of configurations, ideal for special events and weddings
All interior walls are soundproofed allowing for the simultaneous staging of events.
Banqueting: 1900 delegates
Schoolroom Style: 1100 delegates
Ballroom Foyer: 770 delegates
The Bill Gallagher Room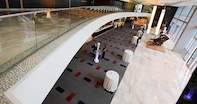 The glass doors open onto a generous balcony. You and your guests can enjoy the temperate Gauteng climate during daytime or evening events. It has proved a firm favourite for breakfasts, birthdays and anniversaries.
Cocktail Function: 400 delegates
Banqueting: 230 delegates
Schoolroom Style: 240 delegates
Boardrooms
The several boardrooms adjacent to The Ballroom and The Bill Gallagher Room can be arranged to accommodate from 10 to 200 delegates in business like or informal settings.
Committee Rooms
Two floors above The Ballroom, committee rooms can be set up in various configurations for meetings large or small. These rooms can accommodate up to 200 guests ideal for business meetings and breakaway rooms.
The Pavilion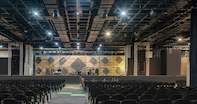 The Pavilion is a versatile special events venue. If seating for up to 4500 guests at a spectacular concert, live theatre production, product launch or sports event is what you need, then look no further.
This uninterrupted space on the top level of the Sandton Convention Centre is serviced by heavy-duty freight elevators and an access tunnel, so all types of seating, sound and stage equipment can be set up.
Sturdy catwalks, overhead rigging and ample power are all in place, and capable of supporting the very latest in theatre and audio technology.
The entire area rests on an architectural award-winning, specially engineered 'floating' floor, which substantially enhances audio acoustic quality, and ensures that even the loudest concerts and most enthusiastic fans will not be heard on the lower levels.
Exhibition 1 & 2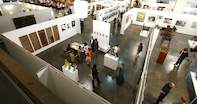 Exhibition 1 venue has a convenient setup for exhibitors and is easy to access at street level for visitors. The Exhibition 2 venue at the Sandton Convention Centre is ideally suited for exhibitions and trade shows and can be adapted and changed for a variety of large scale contemporary functions.
EnquirePlan your next business event at Sandton Convention Centre.