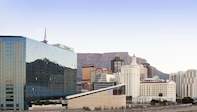 Conference Venues in Cape Town have scenic appeal, the iconic Table Mountain and its interesting architecture, present conference event organisers with creative opportunities for themed events or international exhibitions.
Better still, a famous Cape wine estate adds that much sought-after "Prestige" element which makes any event "special". Charming country elegance and specialized presentation equipment, is rounded off with the five-star cuisine so constantly publicised in good food reviews.
Why Choose Conference Venues in Cape Town
Because it is Cape Town, gateway to South Africa, voted "Best Destination in the World" (TripAdvisor Jan 2012) and, "Africa's Best Travel Destination" (World Travel Awards, July 2010), World Design Capital and host to some of the largest conferences on the globe.
Let Cape Town be your choice conference destination for events, meetings, networking and conferencing.
See more reasons why should choose a Cape Town Conference Venue
See Cape Town Conference Venues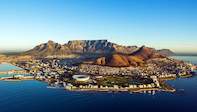 Conventions and Expos
The magnificent Cape Town International Convention Center is within easy walking distance of major Cape Town hotels, and on the edge of the V&A Waterfront, making it easy to place delegate and exhibitor accommodation closer to the big events. There is also a large variety of small conference venues in Cape Town.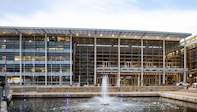 Major Cape Town Conference Centres
Need to fit 1500 delegates into somewhere? Cape Town offers convention and exhibition facilities for large delegate capacities, without accommodation, but with several hotels being available close by.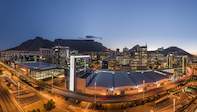 Use the plush ambience and understated elegance of Cape Winelands wine estate conference venues to serve as a backdrop for your convention, product launch or banquet and make it that much more memorable. Learn more about Cape Winelands conference venues in Franschhoek, Paarl and Stellenbosch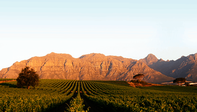 Music Concerts and Shows
Host your big name concert at Cape Town Stadium, a show case for the World Cup. With a capacity of 68 000, plus 68 VIP Suites and 5 VIP lounges located around the stadium, a music concert organiser has the best stage in Cape Town.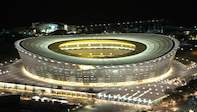 Corporate Clients that benefit from our Conference Services
Our corporate client list includes major Banking & Insurance Companies, Telecoms, Government departments, Embassies, Universities, FMCG Manufacturers, Airways, TV Broadcasters & Auto Manufacturers.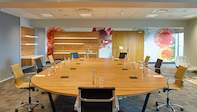 Our Cape Town Conference Specialists
Our Conference Specialists assist you with the benefits of an All in One Conference Package. This includes helping you pick the best venue, organizing delegate accommodation, plus airport transfers and rental cars. Let us assist with your Cape town convention centre events.
Pre and Post-Conference Leisure
Talk to us about a trip, tour or safari for your group of delegates to enjoy after their meeting or conference.
Conference Planning with Siyabona Africa
See the advantages of
planning your conference
early:
Budgeting requirements
Delegate accommodation
Delegate transportation
Add-ons and themed events
Accompanying partner activities
Pre and post event travel
Executive leisure options