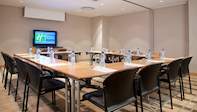 Business meeting venues in Pretoria / Tshwane are plentiful and very well equipped. This capital city of South Africa is a world-class destination and caters for every kind of event with accommodation and resources to meet a range of budgets.
Pretoria / Tshwane is a major centre for the fields of research, medicine, technology and education. The administrative seat of government is located here as well as
embassies, foreign missions, consulates
and trade delegations. Tshwane also hosts international bodies such as the Red Cross and the United Nations. With such a high profile, business meeting venues in Pretoria / Tshwane are in high demand.Business tourism is booming and this dignified city is no slouch in the leisure tourism industry either. There is plenty to experience whether visitors are here for one day or longer.
Business meeting venues in Pretoria / Tshwane
can be found in the historic city centre, in leafy Pretoria East, Midrand and Centurion as well as in the surrounding bush and country environments within a short drive of the city.
City Venues
A well placed
urban venue with downtown attractions
is a great choice for delegates in meetings during the day but with free time around lunch or in the evening. Pretoria is easy to navigate on foot or by car and there are parks and loads of sights to see.
Suburban Venues
Usually
located in scenic areas
or near local attractions, these business meeting venues in Pretoria / Tshwane generally have free, convenient parking on the premises and work well if delegates are driving to the meeting.
Pretoria Conference Venues near OR Tambo International Airport
The closest Pretoria suburb to OR Tambo International Airport is Centurion - this fast growing area is
a top business centre
with excellent facilities. Centurion is 10 minutes drive from Pretoria and 30 minutes from the airport.
Conference Centres
These centres offer fewer distractions and work well when a training centre is needed and / or the attendees need access to a broad range of conferencing facilities and services. Most
Tshwane conference centres
offer comprehensive audio and visual capabilities.
Convention Centre
A convention centre is especially suited to really big meetings where delegates stay at a variety of hotels in the vicinity. The Tshwane Events Centre can host
from 10 to 10 000 people
. It is a multi-purpose venue with cutting edge facilities.
Lodge / Country Retreat
This option is great for delegates who need a real change of scenery, or those who are interested in the great outdoors. There are many great establishments surrounding Pretoria
offering safaris, spa facilities
and other recreational activities. Being in a country setting enhances focus and promotes bonding. These properties usually offer very attractive packages for conference and meeting organisers.
Pretoria is the hub of government activity in South Africa. It's a great place to host your event and take advantage of the nation's best conference facilities. Pretoria Conference Venues....
more