Business Meeting Venues In East London, South Africa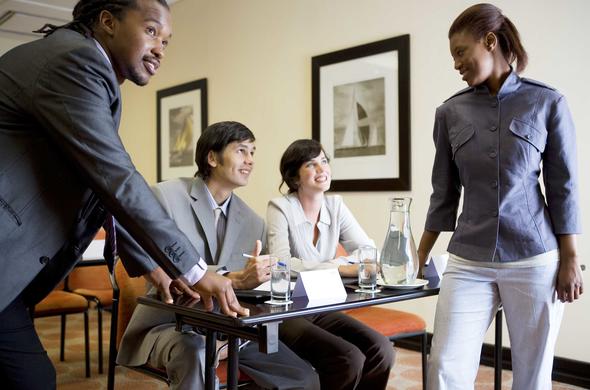 East London is equi-distant from South Africa's three leading market centres - Cape Town, Durban and Johannesburg - making it one of the most convenient meeting points in the country.
Delegates attending
business meetings and seminars
in East London will certainly benefit from the city's central location and its charming corporate event venues.A hub of activity for the import and export business, East London also boasts
first-class infrastructure
, hospitality and scenery. The cost of living in East London is lower than that of other industrial cities in South Africa, making it a cost-effective meeting venue for your organisation. Central and economical - what more could one ask for?
Selecting a venue
East London may not have the glitz and glam associated with big cities like Cape Town and Johannesburg, but it does offer something that money can't buy - peace and tranquillity. It is certainly ideal for smaller business meetings, seminars,
workshops and team building
breakaways.
Venues for business meetings and seminars in East London are offering:
Seating layout options - schoolroom, boardroom and theatre-style.
Audiovisual equipment - projectors, laptop capabilities, white boards and flip charts.
Internet - free wireless internet or at a minimal additional cost.
Catering options - a menu to suit your event and budget.
East London has a limited amount of larger venues to accommodate bigger corporate events. However, the few large conference venues available are of a high standard. The newly opened
East London International Convention Centre
is undoubtedly the most impressive venue in the city, with the capacity to host up to 2200 delegates.
Accommodation requirements
Some conference venues provide the option of booking some or all of their rooms for a seminar which runs over several days. This is a convenient option for
delegates flying in for business meetings
or seminars in East London from elsewhere in South Africa.East London's
airport is just nine kilometres outside
of the city centre, ensuring that delegates do not have to spend too much time travelling to and from their accommodation.If you're attending a seminar that spans over a few days, make sure that you take some time out to see the internationally renowned coelacanth display (a fish thought to be extinct for 70 million years until one was discovered in the warm waters of East London in 1938). The coelacanth display can be viewed at the
East London Museum
, along with the only known dodo egg in the world.If you're lost for
ideas about where to host
your next business meeting or seminar, why don't you consider a great halfway point? East London - central, scenic and affordable.