Reasons to Host Your Conference in East London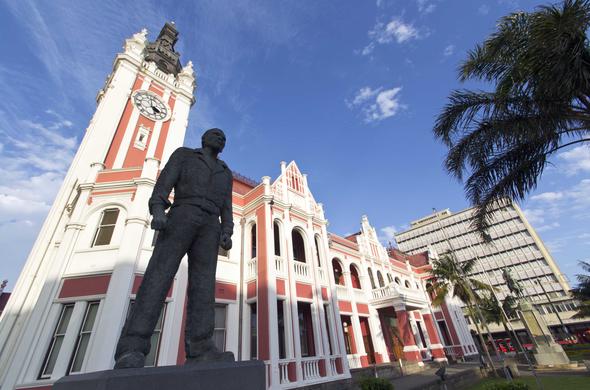 There are many good reasons why you should host your next conference in East London. A true South African gem located on the South East coast, this up and coming city is the second biggest industrial hub in the Eastern Cape Province and the only river port in the country.
Known also as 'Buffalo City,' East London's charm is in the genuine hospitality of its inhabitants. A key role-player in the motor industry and also home to textile, clothing,
pharmaceutical and food processing industries
, East London is a popular destination for corporate travellers and an ideal location for conferences. Discover this city's distinctive appeal as a corporate meeting destination.
Industries located in East London
Automotive industy
Textiles and clothing industry
Pharmaceuticals industry
Food processing industry
Export/Trade industry
Tourism industry
Home to esteemed, well-established names like Mercedes Benz SA,
De Gama Textile Company, Johnson & Johnson
, as well as Aspen Pharmaceuticals, East London is so much more than just a great holiday destination. Considering its commercial status, convening a conference in East London is certainly convenient.Mercedes Benz SA operates one of the biggest passenger car manufacturing plants in East London. An upgrade costing R1.4 billion expanded the plant in order to produce the
Mercedes Benz C-Class
after being awarded the worldwide contract. The manufacturing facility also takes advantage of its close proximity to the East London port for efficient delivery to international markets.East London has also been home to De Gama Textile Company since 1948. The company manufactures a wide range of cotton and
synthetic fabric for distribution
nationally and internationally. They are responsible for manufacturing an impressive 12 million tons of yarn, as well as over 45 million square metres of fabric every year.Established pharmaceutical brands, Aspen as well as Johnson & Johnson, also have multi-million rand manufacturing plants located in this industrial hub. A wide
range of cosmetics
and over-the-counter medicines are produced here annually.
Hosting a conference in East London
East London is a
centre for business and trade
and has several good venues for corporate meetings and functions on offer. The largest one is the East London International Convention Centre (ELICC).
The East London International Convention Centre - ELICC
With the newly built convention centre, planning a conference in East London presents many more possibilities to corporate event organisers. This
eye-catching convention centre
is a versatile facility that is capable of hosting anything from business conferences and gala functions to stage events and exhibitions.
Before or after attending a conference in East London, delegates can take advantage of the city's many pristine beaches or
benefit from easy access
to areas like the Wild Coast and the Amatola Mountains.
Accommodation for the East London Convention Centre is at
The Premier Regent Hotel