Exhibition Venues in East London, South Africa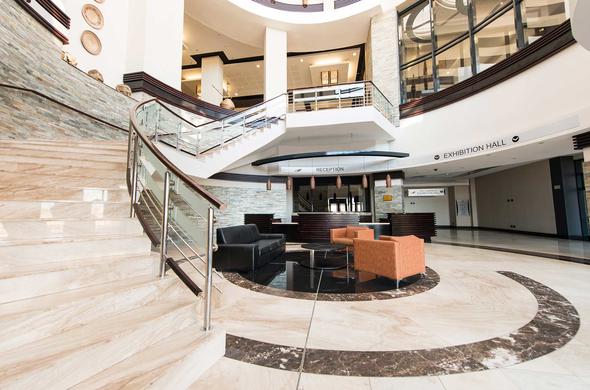 Are you planning a conference or expo that delegates from all over South Africa will attend? East London is one of the most convenient locations for an exhibition, as it is a halfway meeting point between major South African business centres like Cape Town, Johannesburg and Durban.
The
East London International Convention Centre (ELICC)
and its partnership with the African Bureau of Conventions is set to become a prime location for conference organisers.
The East London International Convention Centre - ELICC
The Exhibition hall at the International Convention Centre (ELICC) is particularly impressive with its high ceilings and modern decor. This is
the perfect venue for a conference
in East London. It can easily house 90 average-sized shell scheme stands, making it ideal for larger expos and trade shows.Since opening in May 2010, the ELICC has already hosted an
International Boxing Federation world title fight
and the World Maritime Day celebrations. The year 2010 will also see the ELICC host a congress of the South African Society of Psychiatrists and a Public Health Association of South Africa (PHASA) exhibition.With the success of these events and the recent partnership with the African Bureau of Conventions,
East London is making its mark
as a competitive conferencing destination.
Additional venue options
Despite being one of the smallest of South Africa's major business centres, there are still options when it comes to organising an
exhibition in East London
. The Premier Hotel Regent is another popular East London venue amongst conference and expo organisers, providing a welcome alternative to the large-scale ELICC.
It is important for organisers to consider the following when selecting a venue and organising an expo:
Floor space required for stands
Number of people expected to attend
Budget restrictions and limitations
Indoor/outdoor requirements
Accessibility/parking requirements
Technical requirements
Advantages of hosting an exhibition in East London
The cost-effective environment and hospitable locals are certainly most
appealing for exhibition organisers
. Expo organisers will also benefit from the fact that their budget can stretch that little bit further in East London, due to the cost of living being somewhat lower than that of other South Africa cities. With so many good reasons to plan an expo here, look no further than East London for your next exhibition venue.