Durban And Umhlanga Rocks Incentive Travel, South Africa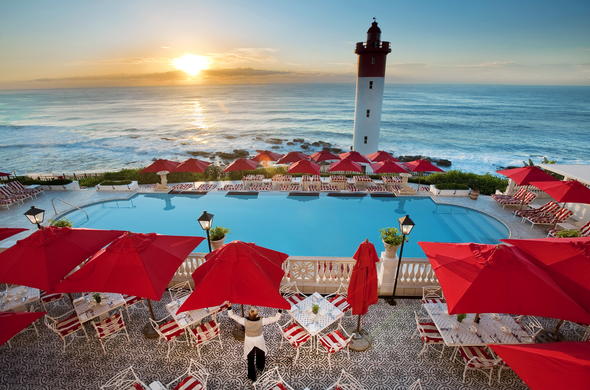 Beyond the sun, sand, sea and surf visitors can explore wildlife reserves, magnificent mountain scenery as well as history and culture in this region. Travel after a conference in Durban or enjoy Umhlanga Rocks incentive travel. This can be truly exhilarating for delegates and their families.
With so many possibilities,
Durban conference travel packages
can be arranged around particular interests and activities. The city stands along a 98km coastline characterised by wide golden beaches, rare sand forest, 17 estuaries and 4 000km of rivers. With such an abundance of resources it is no surprise that all kinds of water sports flourish here.The warm Indian Ocean and
exceptional sub-tropical climate
make Durban sunny and vibrant all year round. Greater Durban is an interesting mix of African, Indian and European culture reflected in the cuisine and architecture. Enjoy Umhlanga Rocks incentive travel, just 15 minutes drive from Durban. This is a top beach destination and often featured on itineraries for conference travel in Durban.Umhlanga Rocks is the site of one of the largest shopping malls in the Southern Hemisphere,
fabulous golf courses and excellent resorts
. Umhlanga is a few minutes from the sophisticated King Shaka International Airport which is connected to greater Durban by an efficient highway system.
Durban / Umhlanga Rocks Travel Experiences
Visitors on Durban conference travel packages and Umhlanga Rocks incentive travel can enjoy the following activities in this region:
Health & Wellness - spas / retreats, clinics, salons and fitness
Shopping - markets, bazaars, malls, lifestyle, boutiques, interior design
Nightlife - pubs, clubs, restaurants, theatre, live music, casinos
Cuisine - seafood, traditional, Indian, African and Asian
History & Culture - architecture, museums, temples, Zulu, battlefields
Golf - around 15 golf courses and golf estates
Adventure - abseiling/climbing, sky-diving, paragliding, microlighting
Watersports - Surfing, sailing, canoeing, fishing, scuba diving, skiing
Outdoor - beaches, water park, boating, horse riding, hiking, biking
Midlands - country villages, craft route, yummy foods, scenery
Wildlife - Big 5 safaris, birding, croc and snake parks, Whale watching
Nature - uShaka Oceanarium, Shark research, Gardens, National Parks
Scenery - Valley of 1000 Hills, Wetlands, Drakensberg, coast & rivers
Hotel of the Year Award 2010
One of Durban's iconic hotels and landmarks, the Southern Sun Elangeni Hotel on The Golden Mile, beat 90 other hotels in the Southern Sun group to win the
2010 Hotel of the Year Award
. The hotel competed with top hotels in Africa, Dubai and the Seychelles.There is no lack of suitable places to stay for Durban conference travel packages and
Umhlanga Rocks incentive travel
. Durban is a leading tourist destination in South Africa and offers budget, affordable, exclusive and luxury accommodation. Umhlanga has an upmarket portfolio of 5-star hotels, golf estates and beachfront apartments.The Golden Mile in Durban is the place to go for Rickshaw Rides, Zulu Dance displays, fun and entertainment for the whole family as well as a huge variety of eateries and pubs.
uShaka Marine World
is a top attraction in Durban with 5 zones of entertainment including interactive Sea World, Wet n'Wild Water Park, restaurants, entertainment and retail outlets.Durban and Umhlanga are great places to shop. Visitors can pick up exotic goods and spices, browse at markets and bazaars or shop up a storm at various
large and modern shopping malls
in these 2 areas. For a change of scenery visitors can enjoy tranquil surroundings in the Japanese Gardens, take a Harbour Ferry ride or a sunset cruise.
Travel after a conference in Durban
Durban conference travel packages can be arranged to coincide with top events in this region or to include visits to exciting attractions within a 2 - 3 hour driving radius.
Isimangaliso Wetland Park
is a World Heritage Site which lies north of Durban. Adjacent to that are wonderful Big Five game reserves and National Parks.The Midlands is the place to go for
fascinating historic battlegrounds
and country hospitality, while the Zulu Kingdom upholds traditional values and culture. Standing tall on the interior is the magnificent Drakensberg Mountain range and on the south coast, endless beaches to discover.