Exhibition Venues In Durban, South Africa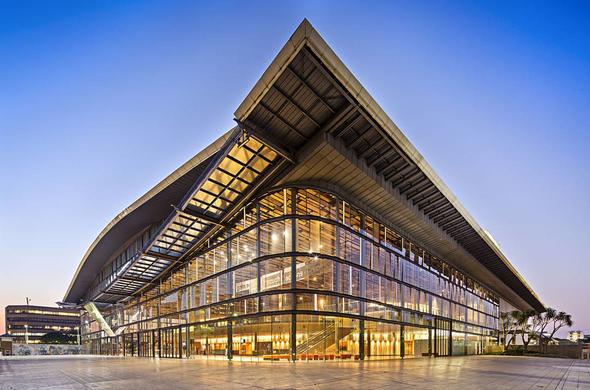 This vibrant port city has positioned itself as a major player in hosting multi-faceted exhibitions and trade shows. Sunny Durban is a year round resort that means business! Exhibition venues in Durban offer cutting edge facilities as well as a range of settings depending on your target market.
The premier event venues geared for both large and small expos are located close to the city and beachfront - the sought after Golden Mile in Durban. This stretch of coastline is
a hotspot for tourism
with top visitor attractions, accommodation, restaurants, pubs and clubs. Umhlanga Rocks exhibition venues are smaller but equally well located in prime business and beachfront settings.Choosing the most appropriate
exhibition venue in Durban
will really depend on your target market and type of product. Another important factor is how visitors will arrive at your expo - ample parking will be required as Durbanites generally travel by car. Public Transport involves certain bus routes only and taxi services. Train routes service regional areas and lines from other centres in the country only.City venues include civic amenities and hotels while suburban exhibition venues in Durban tend to be in
hotels, halls, conference centres
and guest houses with smaller or more intimate facilities. The 2 premier multi-purpose event centres in Durban are used extensively every month of the year.
Durban International Convention Centre (ICC)
The
Durban International Convention Centre
is just 15 minutes from the airport and near hotels and beaches. Palm trees and Baobab trees provide a welcoming entrance to one of the most advanced conference facilities in the world.
Flexibility and versatility are key factors in the design of this state-of-the-art
technology-driven conference centre
. Durban's local authorities are geared towards international conferences and go to great lengths to ensure their success, including closing off roads to enable street and beach parties in your programme.
Durban Exhibition Centre
Situated directly opposite ICC Durban, the Durban Exhibition Centre is a
world class multi-purpose exhibition
, function and conference centre. Two large halls offer a combined space of 9 600m2 while several smaller halls, luxury suites and catering facilities are also available. The DEC also offers 20 000m2 of plazas and gardens which are suitable for outdoor events and parking.
The Olive Convention Centre
Located just off Durban's Golden Mile and the beach front, the
Olive Convention Centre
, with a capacity of 1500 visitors, is just a 30 minute drive from King Shaka International, and less than a kilometre from the Moses Mabhida Stadium.
The Olive Ice Rink Exhibition Arena
The 1740 square metre indoor exhibition arena accommodates up to 66 exhibition stands for trade shows, and can also host corporate events, luncheons or banquets. It is also available for live concertss and product launches. And can still be used to put on ice shows.
2010 Events at other exhibition venues in Durban and beyond
Izikhwepha Zethu (Our Strength) Exhibition - August to November, at the Durban Art Gallery in the historic City Hall complex.
Tala Bridal Fair - August, at the beautiful Tala Private Game Reserve
TAPPSA Exhibition & Conference - Technical Association of the Pulp and Paper Industry of Southern Africa, October, at the Elangeni Hotel
Indaba - Tourism Expo in Durban, each May, Durban ICC
2010 Umhlanga Rocks exhibitions
Johannesburg Stock Exchange, JSE Week Expo - March, at the Gateway Mall Theatre of Shopping and Entertainment, Umhlanga
Childhood With Zeal Road Show - September, at the Breakers Conference Centre, Umhlanga