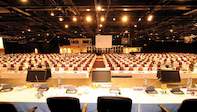 Johannesburg Expo Centre.
As a rule, Johannesburg conference venues are huge. Sandton Convention Centre, Johannesburg Expo Centre and Gallagher Convention Centre are capable of hosting international conferences for business delegates in their thousands, as well as public trade shows and exhibitions.
Social distancing and safety protocols are in place for a safe and succesful event.
Emperors Palace boasts a diverse range of multi-purpose venues and small executive breakaway rooms, with Wi-fi connectivity and state-of-the-art technical resources and facilities in Johannesburg, just a few minutes drive from Johannesburg OR Tambo International Airport. Emperors Palace Casino offers a wealth of entertainment to entertain you before and after your event or conference..

Gallagher Convention Centre in Midrand, Johannesburg is one of the largest and most sophisticated conference venues in South Africa and offers professional conference facilities for up to 7000 delegates. The 5 exhibition Halls of Gallagher Convention Centre offer the client more than 27000m² of exhibition space, which is complemented by 2 fully equipped restaurants and an outdoor dining option.

The Johannesburg Expo Centre is an iconic venue nestled in Nasrec. It's Johannesburg's premier venue for big events, bringing guests from around the world to Johannesburg. No matter how big or small your event is, you can be assured of uncompromising service. The Johannesburg Expo Centre (JEC) has 150 000 square metres of space, 20 000 parking bays and a capacity of 100 000 people.
Enquire Let's make plans to host your next conference, convention, expo or exhibition in style at a Johannesburg conference centre.
We can also arrange all transport, accommodation and pre and post conference travel.
Call +27 21 424 1037