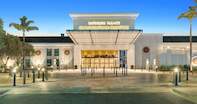 Emperors Palace boasts a diverse range of multi-purpose venues and small executive breakaway rooms, with Wi-fi connectivity and state of the art technical resources and facilities in Johannesburg.
Lodging: Luxurious hotel accommodation available
Location: A few minutes drive from Johannesburg OR Tambo International Airport
What to do: Conferences, shows, product launches, gala events, corporate banquets
Emperor's Palace is South Africa's most stunning development combining the timeless, classical elegance near OR Tambo International Airport.
This venue in Johannesburg provides the finest in dining and entertainment, with a unique retail concourse, capaciously multifaceted conference facilities and extensively impeccable service. When you need to relax, there's Octavia's Day Spa with its Swiss Shower, massage and treatment rooms, sauna, steam rooms and the impressive heated Roman Spa Bath.
Emperors Palace Casino offers a wealth of entertainment to entertain you before and after your event or conference. Catch the latest blockbuster movies at the Nu Metro cinemas, or catch a musical or live show at the Theatre of Marcellus or the Barnyard Theatre at Emperors Palace.
Emperors Palace's octagonally shaped casino, with spectacular volumes, dramatic stained-glass domes, hand-painted murals and frescos, Roman columns and arches, plush carpets and marble floor finishes, set a new international standard in five-star gaming. Try your hand at the Main Casino or the exclusive Prive areas.
Conferencing and Function Facilities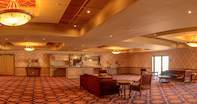 Emperors Palace is the epitome of luxury, the place where business is done. Also, a place to stay, eat and play. From our new facade, magnificent rooms and suites, to the elaborate banquet facilities to all our special features. A reservation at Emperors Palace is not just another booking. It's the guarantee of a good experience.
The exhibition and conference centre provides a diverse range of exciting, multi-purpose venues, as well as small executive breakaway rooms. Venue at Emperors Palace has extensive technical resources, equipped with state-of-the-art apparatus. This venue is capable of accommodating virtually any group, wedding, function or conference in Johannesburg.
Centre Court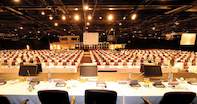 This incredibly versatile venue is ideal for very large banquets of up to 2500 people, sporting and musical events, exhibitions, seminars and product launches.
The Centre Court has generous pre-assembly areas, satellite office and bar locations, under floor power supply and overhead telephone lines as well as a vehicle access corridor for vehicles not exceeding 2.2m in height.
South Wing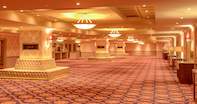 The South Wing at the Convention Centre at Emperors Palace, offers 13 different venues, plus a reception area. This choice conference venue offers state-of-the-art presentation technology.
The Negotiating Council Chamber and The Senate Room I & II - up to 300 delegates in a spacious cinema-style set-up
The Julia Rooms and The Fabia I & II - up to 130 guests can be accommodated into 3 smaller venues.
The Marcia Rooms I & II and The Lucretia Rooms I & II - up to 60 people each.
Theodora Boardroom - This is a high-tech meeting and conference facility and can accommodate 20 people, This boardroom has all the latest technology available and allows you to stay focused on your business.
Smaller Meeting Rooms - 5 smaller venues are ideal for boardroom and breakaway meetings.
North Wing
The North Wing, comprises the large Assembly Room, which is sub-divisible into six separate venues. Its capacity ranges from 30 to 2000 delegates, depending on the style of the set-up, and the combined space of 1 500 square metres is ideal for large conferences, banquets and product launches.
EnquireMake Emperors Palace and Convention Centre your next Conference Venue.