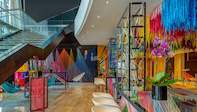 Sandton Convention Centre.
This Sandton hotel conference venue quick-locator directory with capacities, star-rating and area is a guide. Contact our conference organisers to recommend the best Sandton conference venues in South Africa to suit your specifications.
We can arrange all aspects of your event including transport, accommodation and pre and post conference travel.

Perfect for corporate gala evenings, product launches and private functions, these selected 4 and 5 star large Sandton conference venues in the heart of Sandton provide conference organisers with exciting world-class event facilities.

For moderately-sized conferences and private dinner functions, these selected medium Sandton conference venues offer a more personalised and intimate atmosphere than the larger venues.
Ideal for board meetings, small business-to-business meetings, interviews food product taste-testings and presentation reviews, these small Sandton conference venues provide a more peaceful and relaxed atmosphere than the larger hotel conference venues.

From calm and secluded - to the frenetic middle of the financial universe. From modestly sized to mega-venue, these five star Sandton conference venues, stand out as the very best Sandton has to offer.