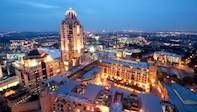 These Sandton Conference Venue partner hotels in Johannesburg provide luxury accommodation along with conference and event venues in the best suburbs of Sandton including Sandown, Sandhurst, Illovo and Morningside.
From small business meetings to large scale events, training seminars and conferences, these Sandton Conference Venues all have state-of-the-art facilities and dedicated conference organizers, ensuring your event is a success.

5 Star - 16 Venues - Max Capacity 4500
InterContinental Sandton Towers guests can use the boardroom at the Sandton Sun, as well as the adjacent Sandton Convention Centre which can host thousands of delegates for conferences and events. The hotel also has direct access to Sandton City via a skywalk.

5 Star - 12 Venues - Max Capacity 1000
The Hilton Sandton is luxury hotel located in the upmarket Sandton precinct. The conference venue has the most advanced technological equipment, with a variety of conference rooms including a ballroom with an outdoor terrace, boardrooms and meeting rooms

4 Star - 7 Venues - Max Capacity 350
The Balalaika conference centre in the heart of Sandton hosts events for up to 350 delegates in 6 event rooms offering 8,847 sq ft of total meeting space. The Balalaika is within walking distance of the Sandton Gautrain.

3 Star - 2 Venues - Max Capacity 16
Take your board meeting, corporate presentation or interview session to Garden Court Sandton City in the heart of Sandton, the exclusive residential and business area north of Johannesburg. Ideal for small meetings.Sandton Convention Centre is adjacent to the hotel for larger conferences.

4 Star - 7 Venues - Max Capacity 260
Holiday Inn Sandton Rivonia Road conference venue, offers superior quality, service, and value in a sought-after location opposite Nelson Mandela Square and great shopping at The Village Walk. Meeting rooms are naturally lit with aircon and WiFi.

4 Star - 3 Venues - Max Capacity 50
Southern Sun Katherine Street Sandton provides premium facilities and services for company board meetings, small conferences and trade presentations. It is located near Sandton Convention Centre in Sandton.

5 Star - 6 Venues - Max Capacity 70
The Saxon conference venue in Sandhurst, Johannesburg, is ideal for private dining, boardroom style conferencing, cocktail functions, presentations and more. Built-in computerized technology forms part of this conference venue in Sandton.

4 Star - 19 Venues - Max Capacity 800
High technology combined with exceptional elegance is the name of the game in the elegant Protea Wanderers conference venues. The Event Deck is the ideal venue for corporate functions, product launches and events.

4 Star - 7 Venues - Max Capacity 150
Premier Hotel Quatermain offers boutique conferencing facilities for executive conferences, meetings, seminars, workshops, presentations or quick business meetings. All venues offer floor to ceiling windows with lots of natural light and ventilation.

4 Star - 2 Venues - Max Capacity 30
Premier Hotel Falstaff in Morningside, Sandton is set amongst private gardens, providing a piece of serenity secluded from the city surroundings. Close to main highways and Sandton Gautrain Station for easy access.

3 Star - 1 Venue - Max Capacity 12
Garden Court Morningside is ideal for small meetings, conferences, and consultations. This Sandton conference venue hotel is located midway between Fourways and Rosebank. A free Gautrain shuttle makes it easy to get around.