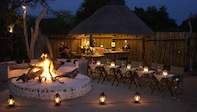 There are excellent conference facilities at many of South Africa's game lodges - in every province. This is an exceptional choice of venues in different settings and includes some of the world's best. And setting up a conference in the bush is easier than you might think.
What is the allure of a
South African game lodge conference
? It's a journey into the unfamiliar, a chance to escape from the run of the mill city venue. Guests are well looked after and enjoy attentive service and superb facilities. Unique experiences can be part of the package such as luxury sleep outs under the stars, Rhino tracking and Bushmen interaction.
Seeing wild animals in their natural environment is a humbling experience. Guests get a sense of the bigger picture and can put their worries and stresses behind them. The wild environment sharpens the senses, enhances focus and also creates a great opportunity for team building.
A South African game lodge conference can be at a venue near the city or involve travelling to a remote destination for absolute seclusion.
More than 12.5 million hectares of land in South Africa is designated to wildlife conservation. There are 22 national parks, and over 1 000 private
game reserves and game lodges
in the country. Every province has something unique to offer. Organisers can select the best option for a South African game lodge conference according to budget, accessibility and region.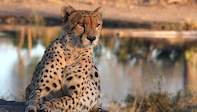 Lodges can be chosen according to what they offer
Big Five Safaris
Private Game Reserves
Tented Safari Camps
Affordable Game Lodges
Game Lodge Specials
Additional facilities such as a Spa or adventure activities
Specific programmes or animal specialisation
Lodges can be selected according to their location
Various provinces in South Africa
Malaria free
Bush and Beach
Desert setting
Greater Kruger Park
Near other top attractions
Within reach of a city / town or a specific area
South Africa Game Lodges are the perfect venue for executive meetings. Enjoy the exclusivity of a small boardroom in a luxury lodge, the beautiful bush setting and African wildlife...
more
Motivate your best performers with a South African Game Lodge travel incentive. Let them enjoy a safari in a beautiful bush setting and relax at a luxury lodge...
more