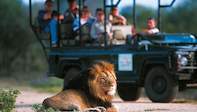 South African Game Lodge travel incentives offer the ultimate adventure! Who wouldn't want to be first in line for thrilling Big Five encounters, night drives and bush spa treatments?
There are many types of lodges to choose from - organisers can create a comprehensivetravel incentive programme to suit all budgets with different levels of experience. Lodges often have
seasonal safari specials
in which big savings can be made. A number of lodges and camps can be booked exclusively for incentive groups.Game lodge accommodation can be
fully catered, self-catering
or come with a personal chef. Whether you prefer a malaria-free option or at least an area of low risk and less time travelling to the destination - there are lots of lodges that can meet both needs.Enjoy
South African Game Lodge travel incentives
in big game lodges with plenty of facilities to keep everyone engaged, which is particularly useful for participants with families and also large groups. Luxury tented camps offer a more intimate and romantic experience. Traditional camps provide a more rustic option with camp fire cooking and self catering facilities.Lodges can be found in every province - some regions have a higher concentration than others due to the presence of all
Big Five animals
, but the smaller areas have unique features or locations. South African Game Lodge travel incentives can be structured according to location, level of luxury and additional activities offered.
Game lodge locations can be chosen according to
Province
Accessibility
Types of game
Malaria-free
Special interests
Local attractions nearby
South African Game Lodge travel incentives experiences
Game drives, night drives, walking safaris, birding trails, hikes
Sundowners at scenic view points
Bush and beach - enjoy game viewing and beach activities in one day
Boma dinners - outdoor meals round a campfire under brilliant night skies
Traditional dance displays
Cultural interaction - village life, Bushmen walks, community, art & craft
Spa and wellness facilities in the bush
Outdoor showers and Jacuzzis
Luxury sleep-outs on platforms in the bush
Golf courses where wildlife can be seen on the fairways
Adventure activities, boating and fishing
Horse riding, quad biking and hot air ballooning
Tours to local attractions of historic, cultural or scenic value