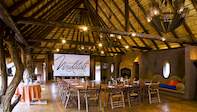 Get close to big game and experience a close encounter of the wild kind - enjoy enhanced focus, a rejuvenation of the senses and inspired decision making!
A safari lodge provides a unique environment for all important brainstorming sessions in stress-free surroundings. A game lodge setting is the perfect place for top level executives to get away from familiar surroundings and gain perspective.
Game lodges are located in every province of South Africa - a fabulous advantage in the business travel industry. International guests will be thrilled at the opportunity of a business safari.
South Africa game lodge executive meetings can be a revelation for those attending. Apart from the business part of the day, guests can enjoy unforgettable experiences such as hot air ballooning at sunrise; interacting with an Elephant and then game viewing from its back whilst riding through the bushveld;
tracking Rhino on foot
with a skilled ranger in the wilderness.Guests will discover a
spirit of adventure on a night drive
though dense bush, their ability to listen and observe is naturally highlighted. Later, over a sumptuous traditional dinner in the boma (open-air enclosure), ideas and innovations can be discussed in a relaxed environment around the camp fire.A South Africa game lodge executive meeting is ideal for invitations which include partners.
Spousal programmes can be tailor-made
to suit requirements. Many venues have superb facilities such as a Spa, a library or media room, access to golf courses and additional activities like tours to local attractions. The romance of a bush environment is not to be underestimated!Many different venues can be used for a
South Africa game lodge
executive meeting. Organisers can choose the best option according to their needs and interests:
Types of features that may be required
Advanced audio / visual equipment
Team building activities
Additional facilities e.g. Spa, recreational sports, tours, golf, pool
Big game lodge with all the trimmings and fine dining
Small luxury tented camp with personalised service
Simple and traditional safari camp
Choose Your Location according to preference
Proximity to an airport
Remoteness
Types of team building experiences
Private game reserve
National Park
Bush and Beach setting
Malaria free
Near local attractions of historic, cultural or scenic value
Break Away from the Herd! Small, intimate and unique, South African safari lodge conference venues are best for executive level groups, or, for corporate team-building. Escape the "same old conference" syndrome....
more