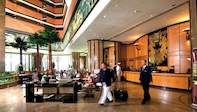 Avoiding problems that can crop up in business travel is so easy when you have a travel partner to do all your planning.
Planning Your Company's Travel Program Requirements
Planning business travel can put an unnecessary burden upon both your company and your employees. Even with the best of intentions, company made arrangements translate into time and money wasted due to expediency, lack of knowledge and lack of negotiating power.
Siyabona Africa is your business travel advocate. We ensure that travel arrangements are made with your business' needs in mind, minimizing unnecessary expenditures, squandered time and overall frustration.
Agents averaging 15 years of travel industry experience are ready to create a Corporate Travel Service tailored to your business needs.
The smartest solutions and an abundance of added benefits are free.
Whats on Offer?

Our 'one-stop shopping' offer provides your company with a variety of accommodations and destinations. Benefit from our expertise and knowledge of travelling in Africa by using our Corporate Travel Services:
>
Travel management
>
Personal preference profiling
>
Travel policy management
>
Quality control processing
>
Room and flight upgrades
>
Travel budget management
>
Supplier negotiations
>
Volume discounts
Any business travel manager knows that travel expenditure is your company's largest controllable expense. There is an art to balancing necessity with expense in effective corporate travel planning....
more