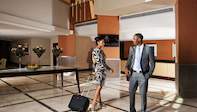 Look before you book. As a cost-conscious business traveller, you may wonder why not just book the offers you see on the web for conference venues, hotels and rental cars.
Here are some good reasons not to go it alone, and to count on your Siyabona business travel consultant instead, for your next conference or event, or even just travelling on normal business.
We Give Better Travel Advice
Get the business-related advice of a specialized corporate travel consultant. Our business travel resources can save you time and money because we can get the best available rates for your conference venue and your associated travel plans.
We Reduce Your Personal Risk
Booking on your own may not get you the important travel advisories about conferencing in certain destinations. If anything does go wrong, you may have no quick way to contact the most relevant person to assist you. Our corporate travel management resources offer an important safety net for your protection. Safety always trumps savings, when you travel on your company's behalf.
We Provide Valuable Insight
Rates usually turn out costly when you change plans or cancel. Corporate fares and rates come with better terms, and sometimes might include upgrades, extra amenities or even use of business services which you won't have to pay extra for.
We Help You to Maintain the Right Image
With today's
"green-conscious" economizing,
your choice may not look so wonderful in light of internal cutbacks or public perception, when having to unnecessarily fly people around the country, or booking expensive suites that are not warranted.
Remember It's Not Your Money
Remember that when you are using company money, you need to ensure that your travel choices are compliant with your company's corporate travel policy and that your
budgeted expenditure is defensible
to your management, your clients and your peers.
Any business travel manager knows that travel expenditure is your company's largest controllable expense. There is an art to balancing necessity with expense in effective corporate travel planning....
more