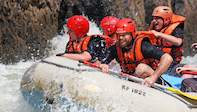 Researching and organizing travel can be daunting for one person. For groups it can be a herculean task, whether it's twenty people or upwards of 100.
Want to do a product launch, team-building event, seminar or work-shop?
From the highly creative concept to the finest details of execution, we design a well-planned and closely monitored itinerary that is truly innovative with memories to last a lifetime.
With a well established presence covering most of Africa and the Indian Ocean islands, Syabona's experienced team can assist you with group travel, incentive schemes and conferences.
Our services start with selecting the most suitable destination or venue for your needs, and includes all aspects of the event. such as tight budget and expense control through to the final reconciliation and feedback.
A Full Suite of Services
Other aspects such as entertainment, partner itineraries and tours and special sightseeing excursions, can be added to make the entire experience a truly memorable one.
While we provide the day-to-day travel services to corporate clients, we are also the implementing arm of what your company has negotiated and put forth in policy.
Our products and services include exclusive rates for accommodation, transfers, protocol and meet & assist services, specialist Visa assistance, health risk and medical assistance and advice, traveller tracking options, charters with both scheduled and non-scheduled options, daily alerts on travel information concerning Africa, specific risk ratings by destination, political and security risks, and evacuation.
Our Expertise - Saving you Time
Researching and organizing travel can be daunting for one person. For groups it can be a herculean task, whether it's twenty people or upwards of a hundred.
Planning a meeting in the midst of it further compounds the complexities of the undertaking. For all aspects to coordinate seamlessly, expertise across many diverse fields is necessary. The team members of Siyabona are skilled in a broad array of specialized fields.
Each expert's field is a piece of a whole that ensures an unparalleled and flawlessly executed endeavor. A 'hands on' philosophy permeates every facet of the affair whether it's staged down the road or a neighboring state.
Siyabona's Group and Meeting Planning utilizes it's expertise in:
Travel program design and management
Site Recommendations/Cost Comparisons
Contract, Hotel and Air Negotiation
House Management
Personalized Budgets
Airline Reservations and Ticketing
Arrival/Departure Manifests
Pre-Conference Meetings
Provide Promotional and Collateral Material
Event Management
A flawless event requires attention to detail that only professionals are capable of managing. Overlooking the smallest detail can unravel an otherwise seamless event - a detail that most people would never have considered.
Siyabona manages partnerships with Event Planners and Co-Ordinators to fulfill client needs for:
Grand Openings
Convention, Group and Venue Coordination and Research
Corporate and Private Functions
Themed Parties
Wedding Reception Coordination and Planning
Decor Design, Delivery, and Set-up
Menu Design and Catering Arrangements
Speaker Coordination and Research
Professional Photography and Videography
Contract Negotiations
On-site Staffing
Complete Destination Management Services
Transportation Arrangements
Note: Banquet and Audio-Visual Requirements are managed by contracted suppliers specifically for the needs of your event.
Contact Us
Enquire about Group and Event Travel