Gauteng Conference Venues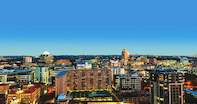 Gauteng is the smallest province in South Africa with lots on offer for leisure and business travellers and is considered the financial hub of Africa.
With its unique geography, Gauteng offers a combination of mineral wealth and natural beauty. This province is also home to Magaliesberg and Witwatersberg mountains both picturesque.
Gauteng conference venues in Johannesburg and Sandton offer a wide variety of venues from small meetings to large expos and gala events.