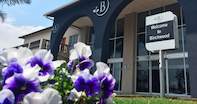 Birchwood Hotel & OR Tambo Conference Centre is the ideal business hotel in Johannesburg for the executive seeking modern facilities, technology and warm hospitality.
Lodging: Four room types
Location: 10 minute drive to and from OR Tambo International Airport, Johannesburg
What To Do: Conferences, meetings, banquets, events and launches
Conferences at Birchwood Hotel & OR Tambo Conference Centre
The exclusive Birchwood is one of the finest 4 Star conferencing hotels in Johannesburg. The hotel offers corporate clients the full conferencing experience with venues that range from small intimate boardrooms to an auditorium.
The professional team at Birchwood will make sure your conference runs smoothly from start to finish. There are also a number of beautiful outdoor venues, ideal for evening cocktails events or product launches.
Birchwood has over 17 years of experience in hotel and conference management and offers tailor-made solutions to meet your conferencing needs.
Birchwood can easily be reached via the 3 major highways and is located near public transport. A complimentary shuttle service is available to and from the airport as well as nearby shopping centres.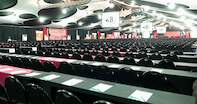 Birchwood Hotel & OR Tambo Conference Venue
The following conference and meeting rooms are available at Birchwood Hotel & OR Tambo Conference Centre with max number of delegates per room.
International Centre / Auditorium - 164
Barcelona - 80
Charles Du Gaulle - 50
Heathrow - 80
Marco Polo - 240
Prague Boardroom - 18
Sofia - 40
Domestic Centre / Cape Town - 180
Grand Central - 60
King Shaka - 300
Lanseria - 60
Rand Boardroom - 10
Virginia - 60
Waterkloof - 40
Wonderboom - 40
Atrium Centre / Baobab - 130
Cedarwood - 140
Cypress 28 - 140
Secreteriat Boardroom - 12
Tanglewood - 12
Yellowwood - 140
Le Grande Centre / Acacia 1 - 130
Acacia 2 - 160
Acacia 3 - 110
Acacia Suite (2+3) - 350
Acacia Chamber (1+2+3) - 600
Candlewood - 200
Oak Chamber - 240
Silverleaf - 330:
The Woods / Applewood - 50
Cherrywood - 32
Maplewood - 100
Olivewood - 150
OR Tambo Centre / OR Tambo - 1200
OR Tambo 1 - 500
OR Tambo 2 - 600
Oak Chamer - 280
Phomolong - 200
Serengeti - 500
Boma House - 350