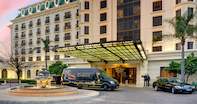 Whether it is an executive boardroom meeting, a trade show or a banquet, at Peermont D'oreale Grande you have the choice of three large convention venues and a theatre, as well as board and meeting rooms.
Lodging: Johannesburg airport conference accommodation
Location: Emperors Palace near Johannesburg Airport
What To Do: Conference, exhibitions, trade shows, expos and product launches
Conference at Peermont D'oreale Grande
D'oreale Grande offers state-of-the-art facilities and easy access to O.R. Tambo International Airport. This 5-star venue is ideal for guests looking for supreme comfort and lavish indulgence. D'oreale Grande is located within the Emperors Palace which offers everything you need to get business done including a state-of-the-art conference and events venue.
This award-winning venue provides guests a matchless regal experience enhanced by superior levels of service and guest relations.
On the top floor, guests will find the deluxe Club Floor and Business Centre Lounge that offer business travellers ultimate corporate luxury where business can be conducted effortlessly and conveniently.
This Johannesburg conference venue offers a premium butler service experience as an optional extra. Dine at the elegant Aurelia's restaurant, Octavia's Day Spa, or sip a cocktail at Neptune's Pool Bar when taking a break from business.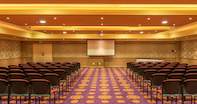 D'oreale Grande Conference Venues at Emperors Palace
The following conference, meeting and event rooms are available at D'oreale Grande with max number of delegates per room.
Assembly Rooms - 1200
Assembly I & Ii - 1000
Assembly Ii - 800
Assembly Iii - 60
Assembly Iv - 80
Assembly V - 50
Assembly Vi - 60
NCC - 400
Senate Rooms - 800
Senate I - 400
Senate Ii - 400
Augustus Room - 60
Claudius Room - 60
Romanus Room - 60
Tiberius Room - 60
Theodora Room - 22
Fabia Rooms - 300
Fabia I - 140
Fabia Ii - 140
Julia Room - 140
Lucretia Rooms - 100
Lucretia I - 60
Lucretia Ii - 60
Marcia Rooms - 100
Marcia I - 60
Marcia Ii - 60
Centre Court - 3000
Theatre Of Marcellus - 910
The Pantheon (Cinema I) - 517
Cinema V - 173
Cinema Vi - 167
Red Roman Shed - 800