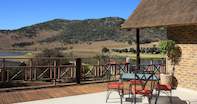 Kloofzicht is a luxury conference venue in Muldersdrift near Johannesburg. Its luxury style and riverside location make it ideal for moderately sized private events.
Lodging: There are sixty suites, twenty of which are executive suites with en-suite bathrooms and luxury decor
Location: South of Johannesburg
What To Do: Themed conferences, corporate events, team-building, week-end workshops, seminars
Conferences at Kloofzicht Lodge
If you are looking for a conference venue in Muldersdrift near Johannesburg with the tranquility of the countryside, perfect for private company functions, smallish conferences, banquet evenings, and events. Kloofzicht Lodge provides 5 conference venues, a boardroom and 2 breakaway rooms that can cater to 10 - 120 delegates.
From catering to the decor of the conference, the team at this Muldersdrift conference venue near Johannesburg will take exceptional care of it.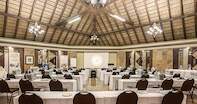 Kloofzicht Lodge Conference Venues
The following conference, meeting and event rooms are available at Kloofzicht Lodge with max number of delegates per room.
Dolomite - 80
Quartz - 80
Dolomite & Quartz Combined - 120
Jade - 80
Emerald - 80
Jade & Emerald Combined - 120
Sandstone - 120
Granite - 25
Topaz - 25