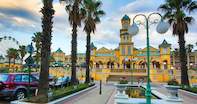 The 4 star Gold Reef City conference venue in Johannesburg can host a product launch or themes conference in the amazing new 4-D immersive theatre.
Lodging: Elegant Johannesburg conference accommodation
Location: Gold Reef City theme park
What To Do: Themed conferences and events, stylized seminar presentations, multi-media presentations
Conferences at Gold Reef City
Host your next conference at Gold Reef City with exciting surroundings of a Theme Park in Johannesburg. Venues include a well-appointed Conference Center with multiple set-up options for different types of meetings, launches, exhibitions and conferences.
The unique venues are all separately appointed with their own entrance off the street. Break time treats can be served in the room's courtyard or on the street.
The Prospectus are the largest venue and can accommodate 200 people in a cinema or cocktail reception setup. The Ruby venue is ideal for smaller gatherings and can accommodate 12 people.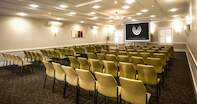 Gold Reef City Conference Venue
The following conference, meeting and event rooms are available at Gold Reef City with max number of delegates per room.
Auctioneers - 180
Barnato - 100
JSE - 60
Ruby - 12
Prospectors - 200