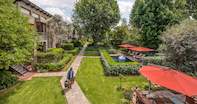 The Peech offers more of a "conference experience" at this 4 Star Boutique Hotel and Bistro. Business lunches and corporate dinners in serene garden surroundings are top of the list
Lodging: The Peech offers sixteen bedrooms and suites
Location: Johannesburg conference venue in trendy Melrose
What to do: Business conferences, presentations, seminars,
Conferences at The Peech
The boardroom at this Johannesburg conference venue is perfect for hosting small or discreet executive meetings. The Peech will happily host dinners and small private events.
Why not add some variety in your conference by including an a la carte lunch menu, divine dinner set menu, or delicious cocktails in the evenings?
For more informal meetings, you are welcome to use them in spaces in the lobby, on the patio, or in the library at The Peech in Johannesburg.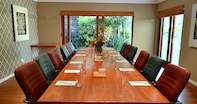 The Peech Conference Venue
The following conference, meeting and event rooms are available at The Peech with max number of delegates per room.
The Boardroom - 16
Basalt - 22