Corporate Banquet and Gala Function Venues in Port Elizabeth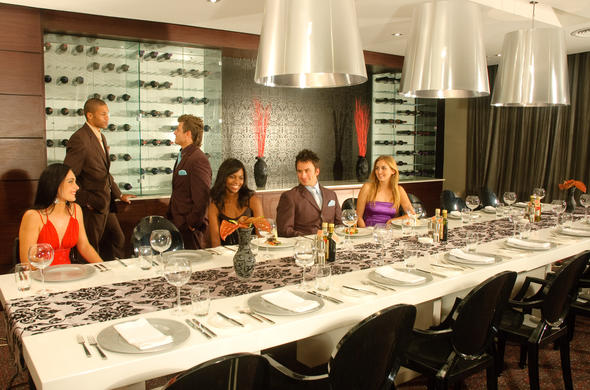 Hosting a successful banquet or gala will can only improve the corporate image of your organisation. In the planning of this type of event, you can never be too organised.
There are several corporate
banquet and gala function venues
in Port Elizabeth to choose from, but selecting one that reflects your organisation is a key contributor to the success of your event. The perfect corporate venue is not merely an attractive banqueting hall; it's also a venue that provides a high standard of customer service - helpful support staff, good catering, relevant suggestions and the necessary audiovisual equipment.
An occasion to remember
A first-rate corporate banquet or gala venue should offer something out of the ordinary, an alternative to the everyday formalities of the business environment. The
breathtaking panoramic views
from a seaside hotel, the crisp ocean air on a sunset cruise, the picturesque surroundings of a country estate or a venue which transports you to a bygone era - these are what memories are made of.
Food for thought
Making guests feel like their needs have been prioritised can give you a competitive edge with sponsors and advertisers. The menu is often brushed aside for the last minute when planning a corporate event, but making
special considerations for guests
with unique dietary requirements will certainly convey a good message to any prospective clients.
No matter which corporate banquet or gala function venue in Port Elizabeth you choose, make sure that they have a good reputation when it comes to catering.
An appetizing meal
creates positive associations.
Protea Marine Conference Venue
Location and versatility
Sometimes the
centrality of a venue
will be a determining factor in how many guests will be able to attend. It is advisable to find out how many of your guests will be flying in for the event and how many are dependent on public transport. This may influence your choice of corporate banquet or gala function venues in Port Elizabeth. Another important factor to consider when selecting a venue is the
versatility of the space
. A good corporate event will cater for everyone, including those with disabilities. For instance, ensure that wheelchairs have easy access to the banqueting area and that there are restrooms for disabled guests to make use of.
An eye for detail
Hosting an unforgettable event isn't an easy feat - it requires an eye for detail. From
finding the ideal venue
, compiling the guest list, organising transport and accommodation for guests, selecting excellent entertainment and ensuring the catering is up to scratch, to a small detail like choosing good music to create a fantastic ambience - there's a lot to think about.