Why Host A Conference In Franschhoek, Cape Winelands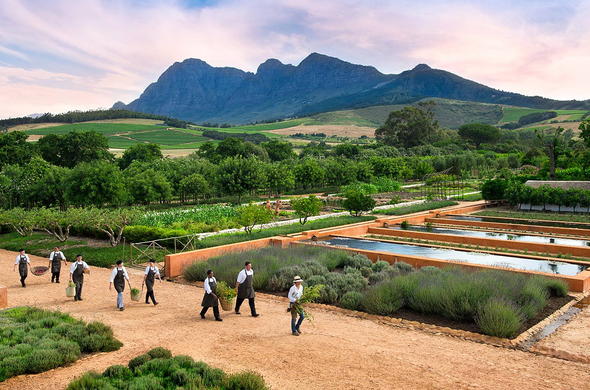 Franschhoek is one of the most beautiful wine valleys in the world and is known as the food and wine capital of South Africa. Just 1 hour from Cape Town, a Franschhoek conference is a wonderful escape to magical scenery and champagne air.
Franschhoek is a
very classy conference destination
in the Cape Winelands, South Africa. Grape growing and wine production as well as leisure and tourism are the main industries in this area.
Wine Industry
Franschhoek is home to some of the most progressive and innovative wine producers in the country. Franschhoek conference delegates will discover that wines of the valley can be enjoyed at more than 40 fabulous wine cellars. This Cape Winelands town has a long standing wine growing tradition
dating back to the 16th century
, with a number of very old and famous wine estates.All the
noble and classic cultivars
are produced in both white and red varieties, as well as classic sparkling wines and ports. Wine tasting tours are well organised and established with some interesting alternatives such as exploring the vineyards on horse back or by mountain bike.
As a
conference organiser in Franschhoek
you need to be able to put together special interest tours and many interesting activities for delegates attending a Franschhoek conference.
Leisure and Tourism industry
For such a small town, this exquisite village packs quite a punch in the leisure and tourism industry! Franschhoek is
one of the oldest towns
in South Africa and its French Huguenot roots are much in evidence. There is something to celebrate in almost every month of the year - putting this charming town on everyone's calendar.Franschhoek is a town for all budgets with a wealth of accommodation. Its
stunning scenery, striking architecture
and outstanding food and wine offerings make it a highly sought after destination.
Around 8 of the Top 10 restaurants in South Africa are located here.
Cookery courses and art classes
are also available. Visitors will find more than a hundred great things to do and see.A conference organiser in Franschhoek will create the perfect Cape Winelands
conference travel package
with partner or spousal programmes, pre and post travel options and all related travel arrangements.