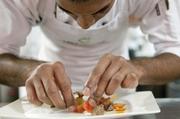 Corporate event catering is a major factor impacting on the budget of your event and several things need to be considered and taken into account in planning the catering budget of your corporate event.
Just deciding the event catering menu will cause the price tag to vary accordingly, affecting the rental deal in the corporate event catering quote. Know the basic facts.
Getting More Bang for Your Buck - Budget Considerations
Time-line
The less the specifications in the time-line, the more economical the catering budget.
The event catering time-line includes:
time specified for rental arrival
staff arrival
meal serving
bar opening and closing
rental clean-up
special out-of-venue services
This is the most economical, simplest vesrion. Every task and event that gets added on... more courses, extra waiters, chefs and cleaners... the price goes up.
The Menu
Do any guests or delegates have special food requirements as a result of religious or customary restrictions or dietary requests such as kosher, halaal, vegetarian or food allergies?
These will affect the catering menu price.
Snacks and Appetizers
These can be passed around by waiters or self-service. Passing around 3 or 4 times for the hour before the main course is standard practice for corporate event catering.
Dining Rentals
The event catering services could include the rental of tables and chairs, linen, crockery and cutlery, serving equipment and so forth.
Setup and take-down charges must be clarified as to whether or not these are included during hire.
Labor
Event catering service providers generally consist of event catering manager, head chef and kitchen assistants, waiters and bartenders. The more guests - the more waiters and bar tenders required.
Served event catering services cost more than a buffet self-service, and also varies the charges regarding staff overtime.
Service Charges
Corporate event catering may include a liquor permit, draping, valet service - even fireworks. Not forgetting VAT.
Each of the above factors are bound to affect the overall rental quote of the corporate event catering; ultimately to be considered in your budget plan.
See also: Planning the Event
To make a catering plan for your successful event, you will need to assess guest profile and preferences, menu choices, serving schedules, room setup and special needs...
more