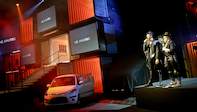 Technical support at conferences and conventions is one of the most crucial aspects in this digital age, and there can be no bigger cause for disaster than systems failure. Allow as much time as technicians require to run your systems several times through a rehearsal check. It could save your bacon.
Available Technical Facilities
Venue size and location govern the facilities and equipment available.
All conference venues in Southern Africa offer standard equipment and services, good accommodation rates and wonderful menus and packages.
However, only the very large hotel venues have the space for elaborate technical support. Smaller hotels and game lodges may have to hire the more exotic equipment. Game lodges will need to have that equipment transported some distance from cities.
Technical Support Staff
Onsite technical support is always required for exotic equipment. Large hotels might supply this as an in-house cost. Smaller hotels/venues will have to contract out for technical support on daily stand-by. Game lodges will have to allow for the technical support crew to be accommodated at the lodge with the delegates.
If this is the case, subtract one or two beds from the available compliment at the venue - and that is the total number of delegates that you will be able to accommodate.
Internet Requirements
As a matter of course, internet facilities, and ISDN lines in rooms are readily available in the majority of hotels, and some even provide Hot Spot access.
Game lodges by their very nature do not attach a high priority to such facilities, and requesting any such is futile.
Internet connectivity is important these days, so please check what IS available at the venue with your consultant.
Managing information for a conference or event regarding supplier contact details, financial transactions taking place from start to finish of the event, and all the business operations is critical...
more