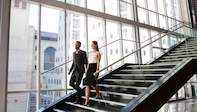 Event, conference and meeting planners rarely see eye to eye with procurement specialists. This is because the planner is working towards a Vision which will be memorable for the attendees, and the procurement department is looking at numbers on a computer screen and counting the beans.
Procurement refers to the entire procedural chain of purchasing goods or services to support your business operations.
It includes assessing needs and then locating, selecting, negotiating with, contracting, training, managing and paying your suppliers.
As Event Planner you may think: Procurement people don't necessarily understand the value of relationships and networking,
Equally, you the event planner, may not be able to see looming budget over-runs without warnings from Procurement.
Aligning Objectives
A procurement department's motives are driven by three basic objectives:
Savings and value: Procurement is focused on driving savings throughout a company, which includes of course, seeking ways to reducing the total cost of meetings and corporate events.
Control: Procurement processes need to document and validate expenses happening within a company to effectively mitigate financial risk, and have a handle on the company's figures at the end of a financial year.
Transparency: Procurement has to have a clear understanding of a company's total spend across the company.
In light of what's happened to the global economy, and companies being criticized for their spending, or their lack of oversight or process when it comes to spending or documentation, Procurement people have to walk a tight line - which means that if you are planning an event, you will be walking it with them.
You both want what's best for the company. Being proactive is critical.
As a meeting or event planner it's important for you to demonstrate the benefits that can be generated from your meeting or event, and also the business impact and results that the meeting or event will drive to the organization.
And that sometimes cost savings can cost you the business. So be smart about it.
Managing information for a conference or event regarding supplier contact details, financial transactions taking place from start to finish of the event, and all the business operations is critical...
more