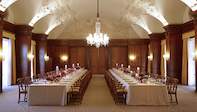 Catering for a corporate event - is not difficult. It just takes a few logical steps and, more importantly, an investment in time, in order to achieve a successful corporate event.
You will need to determine:
Catering Budget & Menu
Number of Event Guests
Event Date
Location
Set up & Clean up
Two things: you either have to fit the event catering into a budget, or, you have to determine a budget to present to the powers that be in your organization.
The best way is the second way. Then once you have arrived at a figure you can compare it to what was being set as a budget.
Based on this you will be able to see if the set budget was unrealistic, as is usually the case, and get the budget upped. Failing getting the appropriate budget you will have to trim back on your event catering "wish list".
Catering Budget & Menu
Your budget will determine what type of menu you can provide.
Are you serving full dinners, just appetizers or both?
Is this a buffet style dinner, or waiter served, menu ordered dishes?
Are you having a themed dinner - or will this be a sort of global cuisine offering?
What about drinks? Is this an open bar service? Or timed open bar reverting to cash after 2 hours?
Location, Facilities, Dates and Guest Lists etc.
Location and Facilities
The venue has many implications for the caterer. Access and operations are all of critical importance.
The following only applies to unusual venues; Are there a elevators, or just stairs?
Does the venue have a kitchen or will a kitchen have to be setup by the caterer.
What other facilities does the venue have including, water and power access and usage, rubbish receptacles, recycling bins and cleaners?
Number of Event Guests
How many guests will be attending?
Is this event an invited guest only affair?
Will your guest be bringing their spouse?
Ensuring that your invited guests RSVP well in advance will go a long way to answering to these questions and help you to better prepare for your corporate event.
Event Date
Talk to your event caterers about getting a discounted rate for a certain day. Weekdays are less busy and possibly your caterers can offer some discounts for specific days based on their schedules.
Set up & Clean Up
Find out what it will take to help set up and eventually clean up after your event as this is built into the time of the event venue hiring rate.
To make a catering plan for your successful event, you will need to assess guest profile and preferences, menu choices, serving schedules, room setup and special needs...
more