Business Meeting And Seminar Venues In Stellenbosch, Cape Town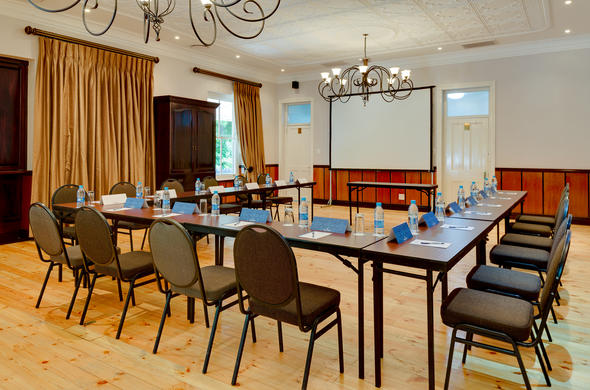 Searching for well-rounded venue that meets your business and training needs? Business meeting and seminar venues in Stellenbosch provide a great solution in magnificent surroundings. Organisers have an extensive range of options to choose from.
Attendees for your meeting or seminar will be transported from their daily routine to a
new and vibrant setting
which will enhance enthusiasm and participation. This historic town can be reached in 30 minutes from Cape Town and even less from Cape Town International Airport. Business meeting and seminar venues in Stellenbosch are central to other towns in the Cape Winelands.Stellenbosch is a leader in the tourism and leisure industry, but it is also a busy
agricultural, academic and sporting
centre. The hospitality industry here is well established and caters for all budgets. Organises can source a variety of venues in the town itself or in the surrounding Winelands for big and small events.Sessions can be held in buildings of historic or cultural significance;
state-of-the-art venues
with comprehensive audio & visual facilities; scenic settings; venues that have accommodation on-site or those that have extra facilities for team building. Food, wine, the arts and sport are prominent features on the Stellenbosch calendar and celebrated regularly - these aspects can be incorporated into delegate itineraries.Business meeting and
seminar venues in Stellenbosch
often provide complete packages for visitors, combining the meeting / seminar venue with accommodation, fine dining, a Spa, excellent recreational facilities and leisure activities. In any case, Stellenbosch is an idyllic destination for creating travel packages for partners and first time visitors. This area has a huge range of activities and attractions.Choosing the appropriate venue is crucial. Top level executives will need a luxury venue which may also combine
exclusive wine tastings
and activities like golf. In all other cases transport, parking and access to healthy affordable food outlets for participants should be taken in to account.
Ideas for business meeting and seminar venues in Stellenbosch
Wine & Brandy Estates and Olive Farms
There are many top options in the Stellenbosch Valley offering superb food and facilities (e.g. a spa) and most provide accommodation as well. There are
indoor and outdoor venues
which can cater for both big and small meetings and seminars.
Golf Estates
These offer excellent facilities and can cater for big or small meetings and seminars. There are
4 estates in this area
and numerous championship courses within 30 minutes.
Hotel Function Venues
There is a
range of venues to choose from
both in town and in the valley, but all provide something unique or specific. They can cater for big or small events and provide a variety of business and leisure facilities.
Restaurants / Country Lodges / Historic Venues
These venues are often
located in scenic settings
and facilities vary depending on the number of delegates. Some are suitable for relaxed groups or those with families.