Stellenbosch Travel Incentives, Cape Winelands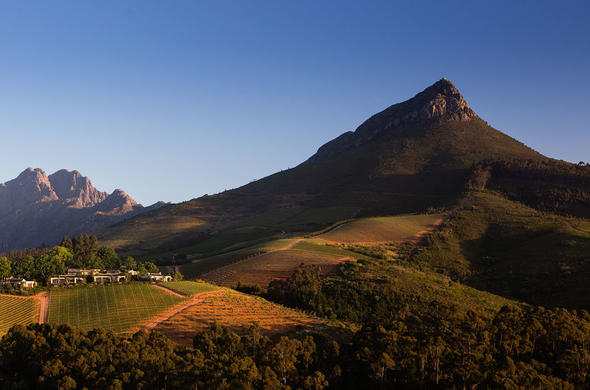 This Cape Winelands town is full of exciting things to do and the sky really is the limit. Stellenbosch travel incentives and conference travel packages will surely provide a wonderful array of possibilities. Create truly imaginative programmes for your employees or delegates.
One of the first valleys to be settled, Stellenbosch is rich in history and full of charming scenes. There are excellent examples of well preserved
Cape-Dutch architecture
in the centre and surrounding farmlands. Even though the town is only 30 minutes from Cape Town, its country feel and vibrant atmosphere is irresistible.Stellenbosch travel incentives can be based around various levels of experience. This Cape Winelands town caters for all accommodation budgets from basic to beautiful and there are also many options for groups. Choose from a
great variety of establishments
including luxury hotels, magnificent wine and olive farms, golf estates, lodges and more.A conference travel package in Stellenbosch can be arranged for any time of year. Each season brings out new delights which can be incorporated into delegate itineraries. Summer is an action packed time highlighting outdoor activities,
open-air concerts and shows
, picnics, water sports and beach trips. Winter highlights
food and wine festivals
, wellness, exploring museums and indoor attractions, refreshing walks and wonderful Whale watching on the Whale Route (Hermanus).
Stellenbosch Experiences
Visitors on
Stellenbosch travel incentives
and conference travel packages can enjoy the following activities in and around this university town:
Health & Wellness - spas / retreats & fitness, skin clinics, salons
Shopping - markets, lifestyle shops, boutiques, antiques, jewellery, art
Nightlife - pubs, restaurants, theatres, live music, jazz & summer concerts
Cuisine - acclaimed gourmet restaurants, cookery and chocolate courses
History & Culture - museums, architecture, festivals, town walks
Winelands - wine & brandy routes, tours by helicopter, car, horse or bike
Golf - at least 6 courses in the valley and many more in the area
Adventure - mountain biking, horse riding and hiking
Outdoor - fishing, water sports, walking trails and wine estate picnics
Nature - botanic gardens and nature reserves, mountain passes, wildlife
Scenery - tours of the valley, vineyards and gardens, day trips
Delegates on conference travel packages in Stellenbosch can go wine tasting on many different types of
Cape Winelands tours
or hire a car and explore on their own. Visitors can also horse ride or mountain bike on wine trails.The Vine Hopper is an executive version of wine routing, visiting selected estates by helicopter, for those with limited time on a bigger budget. The Stellenbosch Wine Route is
the oldest in the country
and includes 5 sub-routes namely, Bottelary Hills, Greater Simonsberg, Helderberg, Stellenbosch Berg and Stellenbosch Hills.This wine valley offers numerous festivals and events throughout the year.
Stellenbosch travel incentives
can be tailored-made to coincide with certain events. Some highlights on the calendar include:
January - Summer concerts, art festival
February - Harvest Festival, University Carnival
March - Woordfees (literary) Festival, the Getaway Show
April - cheese Festival
May - Golf Tourism Day
Jun - Aug - food & wine festivals, wine auction, young wine show
Sept - Oct - various festivals including strawberry picking
November - Cape Winelands marathon, Christmas market, White Lights
December - food & wine shows, Die Burger cycle tour, concert season
Enjoy
wonderful day trips
to surrounding attractions in Cape Town and on the Cape Peninsula, the West Coast and inland to other popular wine valleys of Durbanville, Franschhoek, Paarl and beyond.