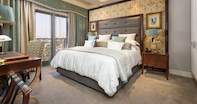 The Five Star D'oreale Grande accommodates its guests in a total number of 182 comfortable and luxurious rooms and suites.
The deluxe D'oreale Grande features 182 beautifully appointed rooms and suites that provide the optimum in convenience and regal comfort. All rooms include 24-hour room service, fully adjustable air-conditioning, an interactive Pay-TV with Internet access, and all local channels.
Each room at this Johannesburg airport conference accommodation has a radio, a personal keypad safe, hairdryer, bathroom telephones, tea and coffee facilities, complimentary mineral water, laundry service and valet services.
Within every room is a writing desk with a business panel comprising standard electronic connections used worldwide and a modem connection for PC or fax machines.
This 5-star Johannesburg conference venue offers luxurious rooms and suites that consist of Classic Twin Room, Classic King Room, Deluxe King Room, Deluxe Twin Room, Superior Twin Room, Superior King Room, Classic Suite Room, Deluxe Suite Room, Special Assistance Room, Executive Suite Room, Junior Suite Room, Club Deluxe Room, Club Superior Room, Club Executive Room and a Club Special Assistance Room.
Facilities at a Glance
Restaurant
Telephone
Hair-dryer
Plug points
Colour TV
Bath / shower
Secure parking
Outdoor Tennis
24 Hour room service
Tea and coffee facilities
Adjustable air-conditioning