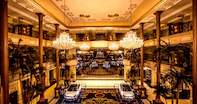 This Johannesburg conference venue in Gold Reef city caters for up to 180 delegates. A chapel is on hand for those spontaneous weddings.
Gold Reef City has succeeded in providing something for the whole family. This Johannesburg conference venue in Gold Reef City offers robotic shows, clowns, bands, can-can girls, strolling minstrels, gumboot dancers and even a mini-farm.
Gold Reef City will undoubtedly add a new dimension to your visit, with exciting new rides such as: The brand new Tower of Terror!!! Do you dare... the thrilling Golden Loop, which travels from 0 - 100km/h in 3 seconds, the awesome Anaconda, Africa's biggest and most exciting inverted roller coaster.
The Raging River Rapids, South Africa's longest river ride, complete with waterfalls, rapids and a whole lot more. There are also more sedate rides such as the fun train and magical Dragon Land for younger visitors. Whatever your plans, you're sure to find a host of attractions to explore, including prospecting in the magnificent new Gold Reef City Village Casino.
Barney's Restaurant and Bar at this Johannesburg conference venue in Gold Reef City seats 100 guests and offers a delightful choice of traditional South African cuisine and is renowned for its variety of cocktails and beers - an ideal venue for sundowners or pre-dinner drinks.
The quaint and charming Victorian Era non-denominational chapel, with its antique organ, offers a unique wedding venue. A horse and carriage are included to create a memorable and romantic wedding day.