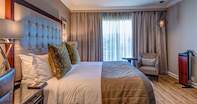 Johannesburg airport conference venue accommodation at the Airport Sun Intercontinental is in luxurious and elegantly appointed rooms with air-conditioning.
This conveniently located Johannesburg airport conference venue is uniquely positioned to meet the needs of discerning business and leisure travellers requiring the ultimate comfort and personalised service combined with consistent world class standards.
Entertainment is also a priority; hence all rooms have colour TV, Satellite TV channels and pay movie channel and an express video checkout. Other little features that are included are the wake up facilities, direct dial telephone with voice mail and a safe at this Johannesburg airport conference venue.
All rooms feature modern amenities like a bathrobe, coffee / tea maker, a hairdryer, mini bar, private bathroom plus shower, a separate wardrobe and a work desk with lamp.
This deluxe Johannesburg airport conference venue has drawn its inspiration from the African continent capturing the culture and spirit of Africa through the use of simple shapes and symbolic artifacts to create an African environment in a contemporary setting.