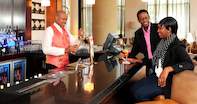 This Johannesburg airport conference venue is ideally located at the Johannesburg International Airport so whether you are here on business or leisure, all your needs will be met fittingly.
The Airport Sun Inter-Continental has a first-class restaurant, Quills, offering Aero-African cuisine, with an informal atmosphere, offering modern cuisine, from breakfast through to late-night a la carte dining. In-room dining with an optional flight schedule-friendly menu is available.
The Airport Sun Inter-Continental has a cocktail bar, which is an ideal meeting place for local business associates conferencing in South Africa or in-transit passengers.
Other relaxation facilities include a massage facility, a fully equipped gym with steam baths as well as an indoor heated swimming pool, which has a panoramic view across the Johannesburg skyline. There is a pool in-house and golf, tennis and an IMAX cinema nearby.