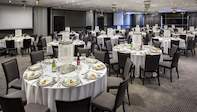 When you're are the person who is ultimately accountable for organizing a meeting, event or conference, the budget could become your ultimate event planning guide.
Here are conference budget planning ideas to help create bullet-proof budget management.
What Are Your Sources of Funding
Decide in advance which conference budget expenses will be covered by your company and event sponsors and what, if anything, might attendees have to pay for.
Create a Simple Spreadsheet
An event planning checklist that lists all possible expenses for all operational areas of your conference or meeting or event, will go a long way to helping you plan for and track conference budget expenses.
Major cost areas of meeting planning will include:
Venue Hire
Staff time
Marketing expenses
Registration expenses
Air and ground transportation
Accommodations
Food and beverage
Entertainment and recreation
Speakers and training
Taxes / gratuities
Other Service charges
Audio-visual equipment and production costs
IT / internet costs
Review event planner budgets from past meetings or your organization's past events for a costs comparison. Don't forget to allow for inflation on things such as food of transportation.
Include a 10% contingency fund to cover any unexpected expenses that may arise.
Things to Watch Out For
Factor in conference budget expenses for any licenses or public insurance. You could be required to pay a license for music you use or for copyrighted written material you distribute.
Insurance costs may also arise for serving liquor and general liability, as well as business cancellation or interruption.
Keep a Tight Fist on the Purse
Take good care of your suppliers. Follow up to ensure that your accounts department settles bills promptly. Keep your own holding account to cover ongoing expenses as they occur.
Meet with your financial officer to review your budget. Ensure that your company's internal accounting system is capturing your expenses effectively.
Remember - it's not your money.
As demands may change for your conference or event, confirm in advance who would have to authorize expenses when they go beyond budget.
Conference Planning and Preparation Topics

About Planning Early
Before You Start
What Type of Venue - City or Countryside?
Conference Budget Checklist
Conference Planning Checklist
Event Planning Checklist
Conference Organizing Teams
Conference Planning with Siyabona