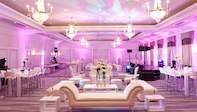 Siyabona Conferencing and Incentives a division of Siyabona Africa is a Professional Conference and Incentive Organizer with offices in Cape Town and Johannesburg.
About us
Siyabona Conferencing and Incentive Travel, is a dedicated Professional Conference Organiser in the business of creating successful events since the division was created in 2006. Our combined experience of 20 years in the travel industry gives us the foundation to fill the needs of international and national corporate clients in this market.
We offer a quality people management service in conjunction with world class venues and destinations. Whatever your requirement, be it a large 5 star conference, a good value for money corporate meeting or a no expense spared product launch, we have the know-how, vision and Siyabona Group buying power to ensure you get the best deal.
Our team has great suggestions to make your event unique and successful as well as provide a fully inclusive event production and planning service for the following:
Conferences
Incentive Programs
Team Building Initiatives
Product Launches
Meetings, Breakaways and Seminars
Events; Themed, Gala, Fund Raising etc.
What We Do Best
Venue sourcing is a time consuming exercise but the key to a successful event. Our association with South Africa's leading hotel groups, and many special venues place us in a prime position to negotiate the best conference packages for your company.
Leave it in our expert hands to find just the right destination or perfect location according to your company brief. We will ensure the venue is easily accessible and capable of matching your event needs.
Conference and Event Management
We apply service excellence to all our events large or small. The Siyabona team project manages the entire event, liaising with and booking all required third party services. A comprehensive plan is presented outlining the budget, planning schedule, pre and post events and all itineraries.
We will keep you informed of all developments and supply regular updates whenever required; this releases valuable time for you to attend to your own work schedules. At Siyabona we understand that every event is unique. A dedicated team is appointed and each event is run as an individual project to meet your specific needs and objectives.
Environmental Responsibility
Siyabona Africa supports the concept of responsible tourism and its impact on environmental issues.
Our association with our business affiliates and memberships with tourism trade organizations reflect our commitment to those responsibilities.
Guaranteed Service Providers
All service options throughout the Siyabona Africa Network, which are provided by a third-party service provider, carry the guarantee that the service provider is a registered member of a recognised travel and tourism authority.
We only deal with the registered and acknowledged service providers, and therefore can give Siyabona Africa's corporate clients a Travel with Confidence guarantee.
Corporate Clients