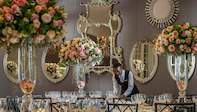 If you are a novice at event planning, you may feel that event management is difficult. Well it's not. Event management is a hard job. But it's not difficult. You need to use event management checklist templates and action plans to start planning events efficiently.
At Siyabona All event management office preparations are made by using task management software which will help us to efficiently plan and schedule items in your event agenda...
To Help You...
Organize event management work and hold events of any kinds in the best way taking into account event location, time and date.
Engage event management organizers in event preparation and hosting
Notify all attendees of the forthcoming event
Minimize event management risks
Hold regular event management workshops to discuss details of the forthcoming event with key participants and event management assistants.
Prepare and show event management presentation to all people involved in your event organization.
Deciding on the event type and defining the key event characteristics
Firstly define the type of event you are going to arrange. It can be a corporate golf day, an awards ceremony, a private corporate banquet or a public trade show.
According to the chosen event type, you need to set event characteristics and include them in your event agenda.
Key Event Characteristics Are
The format of corporate or public events can be organized in different formats. Basic event formats are party, cocktails, gala dinners, product launch, and reception.
Event location and venue
Event completion and opening dates
Number of guests to
Alphabetized guest list.
Special and VIP guests on a SEPARATE list.
Guest contact details - phone numbers, e-mail addresses
Event budget accounting for publicity, decorations, food and beverage, entertainers, transport, insurance, first aid equipment, media people, licenses and permit fees. Budget Planning
Entertainment.
Keynote speakers.
Photographer/videographer
Preparations: Do You Need?
Publicity broadcast media
Brochures and leaflets
Posters and banners
Door gifts
Buntings and decorations
Video and flash presentations
Event Management Operations
To better control your event, keep your event agenda with you during the course of the event, so that you can take immediate action if and when necessary.
Use the attendee list to check who has arrived and who is still absent.
Make sure all participants and event management assistants under your control are ready to go.
Have an emergency contact list on hand.
Some general evaluative event management profile criteria include:
Event Pre-Planning
Objectives
Audience
Message of the Event
Costs
Dates
Location
Types of Invitations
Phoned
E-mailed
Printed, informal
Printed, formal
RSVP return card
RSVP by telephone
Reminder mailing
Event Program
Topics
Speakers
Speaker contact
Speaker agreements, honoraria
Equipment needed
Biographies
Introductions
People Logistics
Hospitality
Transportation
Accommodation
Mementos
Event Venue Facilities
Number of people
Auditorium-type seating
Conference room seating
Table shapes: O, U, V
Menu service needed
Parking
Directional signs
Marquee sign(s)
Equipment Requirements
Lectern
Podium
Public address system
Microphone(s): Neck, podium, table, floor
Raised platform
Projection screen
Video projector
Remote control cord
Overhead projector
Flip charts, markers
Extension cords
DVD player and monitor:
Lap top to Screen
Event Food & Beverage Arrangements
Menu selection
Caterers
Schedule
Type service (buffet, seated)
Tables for 6, 8, 10
Head table
Place cards
Seating diagrams
Beverages
Hospitality room service
Publicity & Promotion Considerations
Mailing lists
Promotional mailings
Posters, flyers
Advertising
Media contact
Media fact sheets
News releases
Talk show appearances
Press packets
Press room
Special phone lines and internet connectivity for media
Event Photography
Stills
Video
Hire photographer
Shot list for photographer
Printed Program
Agenda
Speakers' biographies & photos
Organization information
Lists of officers, committees
Lists of sponsors, contributors
Design and printing
Quantity
Distribution
Registration
Registration form
Bank account
Reporting system
Registration confirmation
On-site Registration
Pre-registration list
Tables
Computers, collateral equipment
Personnel
Cash receipts
Programs
Name badges
Goodie Bags
Ticket sales
Host identification
Venue signage
Transportation
For equipment
Lease or charter vehicles
To and from parking areas
For speakers & special guests
Between locations
Signs on vehicles
Publish or post schedules
Escorts or Guides
For speakers
For special guests
For tours, exhibits, etc.
Aboard shuttles / buses when needed
Event Decor
Set the theme
Entrances and exits
Speaker platform
Head tables
Dining tables
Hospitality suite
Access Ticketing
Prices
Advance sales
Printing
Distribution
Sales reports
Ticket and money control
Complimentary tickets
Press tickets
Sales at doors
Collection at events
Additional Considerations
Valet parking
Bad weather planning
Exhibits, displays
Security
Technicians for equipment
Disaster management
Ambulance on stand-by
Police, traffic control, security
Post Event Evaluation Process
After the event is finished, take some time to evaluate it while the details are fresh.
You can request event participants to complete a questionnaire to get formal or informal feedback.
Conference Planning and Preparation Topics

About Planning Early
Before You Start
What Type of Venue - City or Countryside?
Conference Budget Checklist
Conference Planning Checklist
Event Planning Checklist
Conference Organizing Teams
Conference Planning with Siyabona