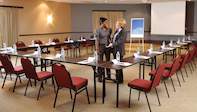 A conference planning checklist is definitely required. Conference or event planning is a very complex arrangement and since not all conference planning tasks can be kept in mind, an appropriate checklist is necessary.
This conference planning checklist is intended to facilitate the process and include various activities that should be performed to assure the successful conference organization.
The list may be more detailed than you may require, or it may not list items you will require. Modify it, or supplement it with details according to specific needs.
You don't have to do all of this by yourself.
Set up your Conference Organizing Teams
General
Determine conference name and main topics.
Determine the location
Set the conference time-scopes (dates)
Set the daily start and end times
Create preliminary budget
Location
Contact appropriate hotels, business centers and conference halls for conference space
Arrange site inspections to compare properties
Take a camera with to photograph any defects / damages that were there before you took the venue
Research venue capabilities - square meterage, audio-visual and IT equipment available
Research and compare accommodation options/prices
Research and compare banquet options/prices
Research and compare suppliers of necessary goods
Research parking issues and transportation routes
Confirm dates, hours and prices.
Negotiate contract
Speakers
Apply for industry experts or government ministers for keynote speakers
Make a preliminary list of potential speakers
Contact potential speakers
Research the terms of performances
Finalize list of speakers
Schedule speakers' deliveries
Agree the performance schedule with speakers
Send official invitations
Negotiate a contract with speakers
Make accommodation bookings
Assist with travel if required
Arrange hospitality and transportation as required
Marketing
Write conference marketing plan.
Create the list of potential sponsors
Negotiate contracts with sponsors
Create conference theme and logo
Create promotional plan - Internet campaign, TV/Radio campaign, printed materials
Design and print brochures, tickets, advertising materials, invitations
Promote event to prospective exhibitors
Arrange advertising
Make announcements in appropriate journals and newsletters
Make announcements via TV/Radio
Make announcements on appropriate web sites
Make a promotion at appropriate conferences
Organize advertising materials distribution
Ensure publicity through appropriate societies
Design and order t-shirts, freebies, name tags, presents etc
Develop an exhibit guide
Organization
Organize conference teams and committees
Organize account department system of payments
Organize staffing, volunteers/staff registration
Organize system of participants registration
Organize accommodation for staff/volunteers
Make a preliminary list of participants
Plan banquets, entertainments, catering
Elaborate schedule of events for each conference day
Finalize list of participants
Organize accommodation for participants
Organize conference premises decoration
Organize purchase of necessary things
Book banquets, entertainments, catering
Send invitations to all participants
Book technicians for audio-visual equipment
Book technicians for IT equipment
Book light and sound engineers
Ensure audio-visual equipment is operational
Onsite Management
Organise presentation committee
Arrange delegate activities
Arrange social programs and functions
Confer with Banqueting manager - food and beverage needs
Arrange for your inspection team to check for any defective equipment being supplied
Check Disaster Management compliance, emergency evacuation
Check Fire and Para-Medic compliance
Registration
Ensure updates of registration forms and website online links
Establishes delegate payment policy
Ensure registration packages will be delivered 2 days before the day
Organize exhibitor registration
Take-down
Arrange the quick clearing of the venue
Ensure that your teams are not causing any damage that you will be liable for when they say they were not responsible
This last part might appear ludicrous, but it is always the one issue at the end of a conference or event that leaves a bad taste, jeopardizes professional working relationships and will cause you un-necessary expense.
Conference Planning and Preparation Topics