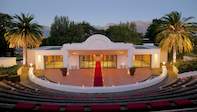 Make your choice of conference or meeting venue send the right message through your choice of conference destination.If you have been charged with setting up a big company meeting, or a meeting between your own organization and another, you need to be in image-conscious mode.
To deliver the "right" message about serious work, choosing the meeting venue or destination is as important as the need for the meeting itself. Very much like when you are wearing the right clothes for a job interview. When participants of a meeting are inspired, great meetings result. When people are relaxed they communicate better and teams work together. That's how goals are achieved. Organizations move forward when their people are motivated to put in their best, because they feel valued.
Be sure to read Related Topics at the end of this article
It is quite likely that many of the best qualities for productive meetings are being lost. Just because of poor lighting, lack of attention to table dressing or over-cooled air-conditioning. Or the snacks were crummy.Hence the need for early planning - because you will need to put in the time to do a site inspection. Even if it means getting on a plane and over-nighting at a hotel. Which might even be where the conference hall or meeting room might be. In a city hotel? In the countryside? Beach? Golf resort? Game reserve?We all know that a calm, distraction-free setting allows us to forget about our day-to-day concerns and focus on your presentation, listen to your Speaker, be more creative in brainstorming sessions or be more receptive to unusual ideas and new concepts.
City Hotels
Shortness of time on the part of attendees will dictate choosing something fairly convenient and easy to reach. A mid point making similar drive times for all parties concerned would be the most expedient - so select a venue in that area - but do not compromise on quality. Big city conference venues generally may have more sophisticated high-end equipment, and they are more quickly accessible to stage and lighting companies, or venue decorating studios whose operations are city based
Country or Beach Hotels, or Country Estates
A "blow-them-away" venue is an absolute must, especially if your company is making a pitch of some sort and you have to impress. These typically feel quite different from the usual hotel venue, lifting attendee's spirits beyond the realm of routine business travel, to a place where they feel more at ease.During breaks in the meeting - they can be relaxed by the views and the atmosphere of the surroundings. You might incur some higher costs when extra technical support is required and those suppliers themselves pass on their fuel costs to you. But that has to be weighed up against the impact of your presentation.
Golf Resorts
Only if this is an executive level meeting and warrants the expense. And ONLY if the participants are actually going to PLAY golf - otherwise you will be blowing your budget to no avail. Golf is unmatched at fostering camaraderie and sussing out whether your meeting partners have values such as the fairness and integrity that you might be expecting from their every-day business.
Safari Lodges
The same as golf resorts and only if you do not need highly specialsed equipment. (You will have to order it in at extra expense). Owing to the small size of game lodges, twenty guests max, in some places, you might want consider booking out the entire venue. Also, considering the price - these properties should be considered for either top-level executive meetings.
Or considering the destination - a game lodge can be ideal for either team-building activities or a corporate group incentive program. Do not omit the drive time required to get to and from a game reserve, or shutlle and light aircraft charter costs.

See Safari Lodge Conference Venues
The advantages of sending the right message through your choice of conference destination that is good for business, is easy to see. Whether it's presenting in a conference room, networking at a reception or sealing a deal on the fairway. Choosing the right meeting venue is the first item on your agenda.
Related Topics