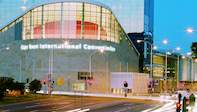 Whilst it may appear to be difficult to categorise all venues, we have provided a general guideline to identify your basic requirements. Initially we would discuss your expected number of delegates, and your aims, objectives and budget for your conference in order to establish the type of location that is best fulfills your requirements.
Hotel Conference Venue:
Well suited for all business needs, these conference venues offer lodging with excellent catering facilities.
They provides venue management, audio visual technical support, and 8 hour chairs.
Refreshments such as coffee, tea and bottled water are available throughout the conference.
Country Estate Conference Venues: Opulent décor, park like surroundings and steeped in history these venues embody all the luxury and ambience associated with a Country Estate.
Ideal for top level executives, smaller delegate capacities, and low-key conferences, that require a tranquil environment for client entertaining.
City Centre Venues: Conference venues in the heart of the city of your choice are the preferred base for any conference or client function with the advantages of close proximity to all forms of public transport.
Complete with conference and banqueting managers, audio visual technical support, break away meeting rooms, and full leisure facilities, they provide conference organisers a full suite of services.
Exclusive Game Lodges: Executive conferencing, away from it all...
These selected Safari Lodge conference venues are exclusively for high-level corporate executive conferences, seminars or meetings. Here, you are assured of absolute privacy, the best quality service and discreet handling of guest lists.
Conference Planning & Preparation Topics
About Planning Early
Before You Start
What Type of Venue - City or Countryside?
Conference Budget Checklist
Conference Planning Checklist
Event Planning Checklist
Conference Organizing Teams
Conference Planning with Siyabona